If you're in the marketing or sales space, you may have heard of HubSpot but aren't quite sure what it is or how it can help your business.
HubSpot is a comprehensive inbound marketing and sales platform that helps businesses attract visitors, convert leads, and close customers.
In this post, we'll cover what HubSpot is, how it works, and why it's such an effective tool for growing businesses.
HubSpot
HubSpot is an integrated marketing platform that helps companies scale their business by delivering a best-in-market customer experience.
What is HubSpot?
HubSpot is a powerful CRM tool that can help sales and marketing teams work together more effectively, driving sales engagement and improving ROI. It's also great for optimizing inbound marketing strategies to generate more qualified leads and sell more effectively.
HubSpot's Brief Background
It is helpful to understand a bit about HubSpot's history in order to gain an understanding of how the company works. HubSpot was founded in 2005 with the aim of serving marketers. Over the years, it has evolved and now offers a range of services to businesses of all sizes.
Back then, they offered businesses tools and resources to get started with inbound marketing. We won't go into much detail about inbound marketing here, but if you're interested in learning more, be sure to check out our full inbound marketing guide.
What Does HubSpot Do?
HubSpot's goal is to help businesses market more effectively. To that end, they developed a cloud-based platform that allows all digital marketing efforts for a company to reside in one place. This includes hosting a website, blogging, social media post management, email marketing, and much more.
With HubSpot tools, marketing teams can cultivate qualified leads until they are ready to pass on to the sales team. When a lead is ready to convert, it is seamlessly passed to the sales team, providing a smooth and frictionless experience that helps companies close more deals.
But this is only the beginning with HubSpot's software. Now, years later, HubSpot offers this initial software as an all-in-one CRM, including software and tools specifically designed for sales, marketing, support, and operations teams, plus a powerful content management system (HubSpot CMS).
The various tools available today can help your business to grow seamlessly. However, it is understandable if you feel overwhelmed by this prospect.
What is HubSpot CRM?
The HubSpot CRM is a powerful and free customer relationship management tool that is the core of the HubSpot tools. With this tool, you can easily organize and track your leads and customers through Hubs. This free tool will help your team stay organized and efficient by using a spreadsheet to track contacts.
The HubSpot CRM is a powerful tool that can help you manage your business. There are 5 different hubs for different parts of your business that can be used together or separately. With the HubSpot CRM, you can streamline your business operations and improve your bottom line.
The tools you need to engage potential and existing customers through marketing campaigns that produce content that intrigues, entertains, and delights. These tools help you place this content in front of the right people, and then convert those visitors into leads, and finally customers.
Additionally, the analytics and reporting capabilities make it simple for marketers to demonstrate ROI from their efforts.
The 5 HubSpot Hubs
HubSpot Marketing Hub
With the right tools, you can run a marketing campaign that both attracts and engages potential and current customers alike. By creating compelling content and getting it in front of the right people, you can convert visitors into leads and customers.
Plus, the analytics and reporting capabilities make it easier than ever for marketers to show how their efforts are paying off.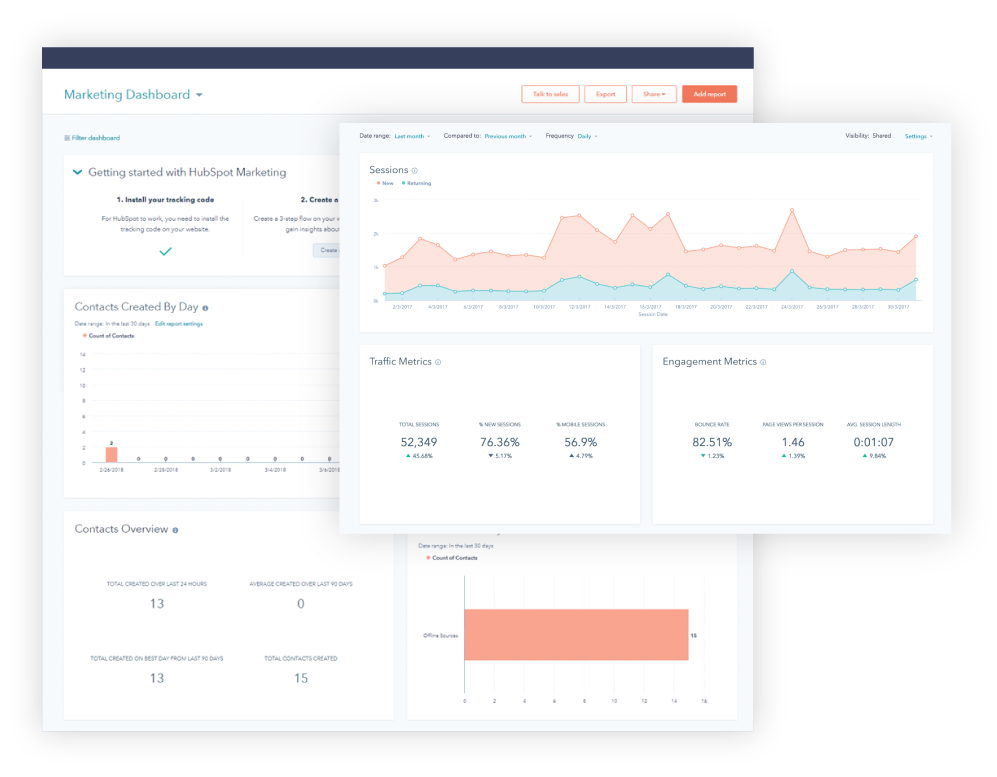 What does HubSpot Marketing Hub include?
Landing pages: A great way to increase conversions and take advantage of powerful conversion rate optimization tools like easy A/B testing.
Emails: A powerful marketing tool that can help you drive conversions by sending personalized messages and automating your marketing with custom time delays and triggered events.
Blogs: It's important to create compelling content for your blog in order to build trust with potential customers.
Social media marketing: A great way to connect with your audience and promote your brand. By scheduling posts across multiple platforms and engaging with user comments, you can create a central location for all your marketing efforts.
SEO: SEO should be a top priority for any business with an online presence. By optimizing your website for search engines, you can increase your visibility and attract more potential customers.
Marketing automation: It can save you time and effort by automating your marketing processes. This way, you can maintain a personal touch while still efficiently managing your contacts.
Analytics: It is important for understanding what is working and what is not. By tracking your performance, you can make necessary adjustments to improve your results.
Here is a more in-depth guide to the most popular features of HubSpot Marketing Hub.
HubSpot Sales Hub
The HubSpot Sales Hub provides an easy way to manage, connect and track leads. With greater visibility over the pipeline, your sales team is empowered to engage customers without spending endless hours entering data or writing the same emails over and over. Essentially, a sales hub is CRM on steroids, giving you more control over your sales process.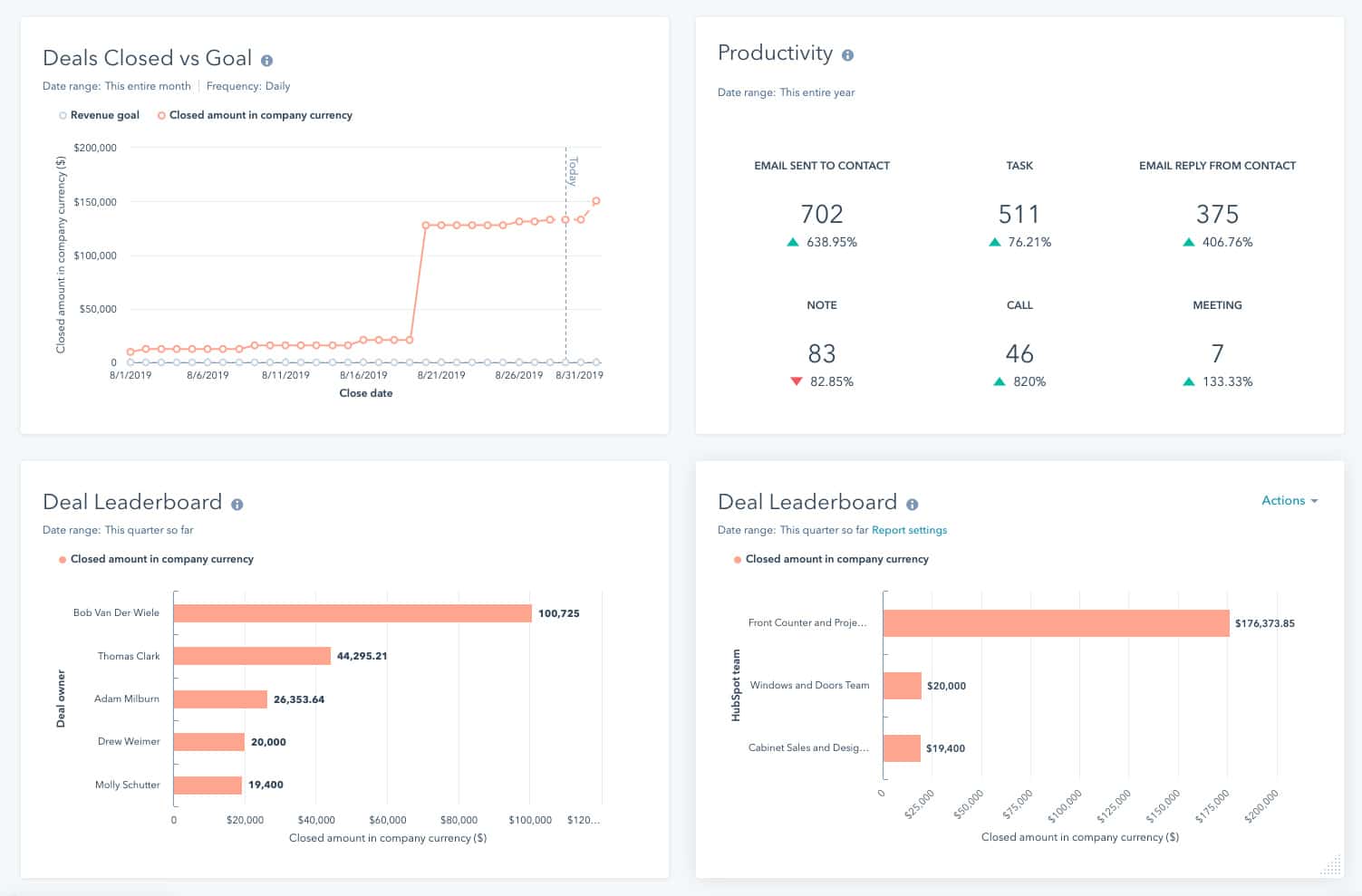 What does HubSpot Sales Hub include?
Email templates: Quickly create emails using our pre-made templates, customized to your needs.
Free calling: Connect with your contacts directly, and automatically log the date and time of the call for easy follow-up
Email sequences: email sequence features make it easy to follow up with leads and save time monitoring their interest.
Meeting Scheduling: It offers an easy way for leads to book appointments.
Pipeline tracking: Keeps tabs on how warm your leads are and easily finds out when it's the best time to close.
HubSpot Service Hub
HubSpot's customer support software makes it easier for you to reach out to customers and manage these relationships. Because when your customers are happy, you are happy - and that also helps your business grow.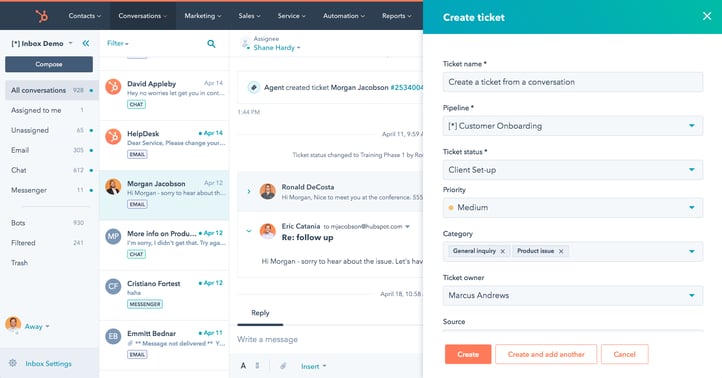 What does HubSpot Service Hub include?
Customer feedback: Feedback is essential for understanding what your customers want and need. Our tool makes it easy to collect feedback and share key insights with your team.
Support tickets: Organize all your support tickets in one place for easy management.
Live Chat: Offer live chat support to help solve customer problems in real time.
Knowledge base: A knowledge base can help solve common problems, making it easier to scale, onboard new staff, and avoid reinventing the wheel.
Reporting and goals: Measuring can help keep everyone on track and see how well their efforts are aligning with goals.
Conversational bots: Bots can help create bots to handle common issues.
Hubspot CMS Hub
The Content Management System (CMS) Hub is a powerful tool that can help you get more value from your website and convert more leads.
A CMS can help improve your content marketing and lead generation efforts by providing a central platform to manage your content. By having a CMS in place, you can more easily create and publish high-quality content that will help attract and convert prospects into leads.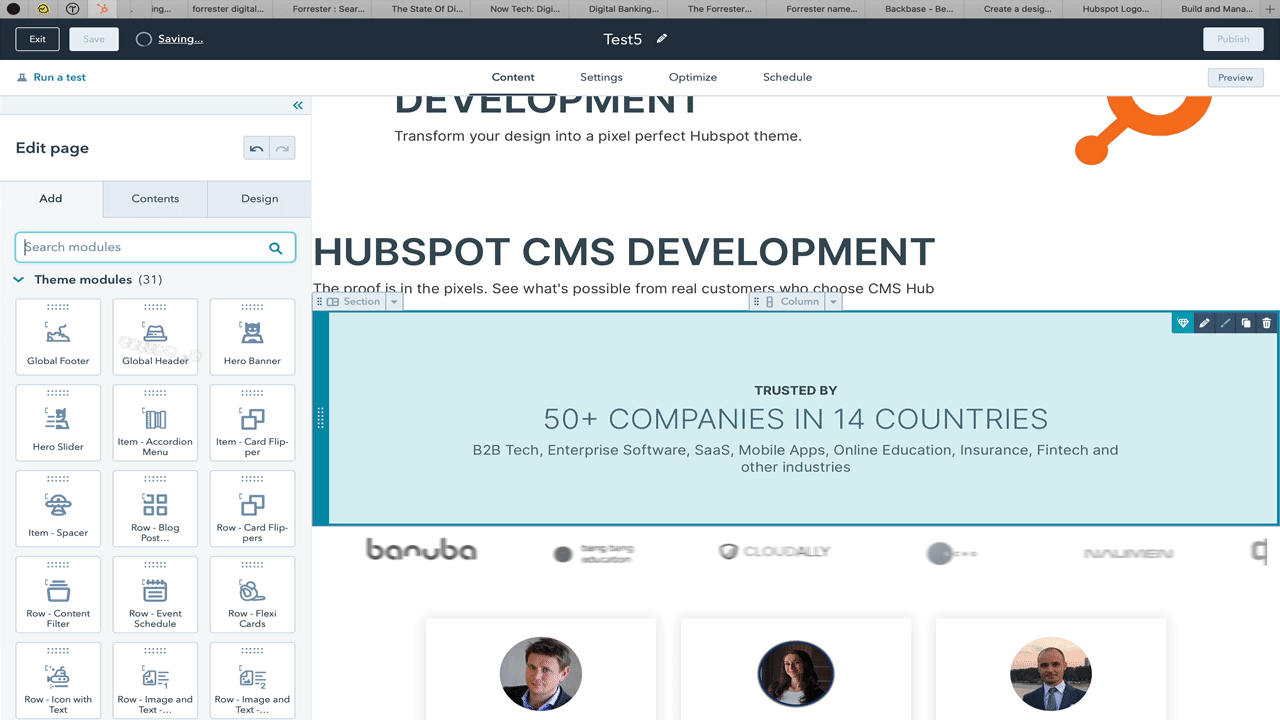 What does HubSpot CMS Hub include?
Drag and drop: The drag-and-drop web editor ensures that no coding is required - what you see is what you get.
SEO tools: The SEO tools are designed to help you rank better in search engine results.
Web analytics: HubSpot web analytics feature allows you to track traffic flows and conversions across your web pages.
Attribution reporting: Reporting on attributions will help you see which traffic sources and web behaviors are most effective in achieving your desired conversions.
Adaptive testing: Adaptive testing feature makes it easy to A/B test content, so you can determine which copy and design elements are most effective in achieving your desired results.
Hubspot Operations Hub
The new operations hub is designed to streamline data management and enable automation. It helps connect your apps, as well as sync customer data between teams, cleanse redundancy, and automate processes, taking "busy work" out of the daily grind. This allows your team to focus on more important tasks and provides a more efficient workflow.
This hub provides a great way to prevent having a patchwork of software solutions when you grow your company. By consolidating your software needs into one place, you can avoid the problems that come with using multiple software solutions.
Learn more about growing sales with RevOps.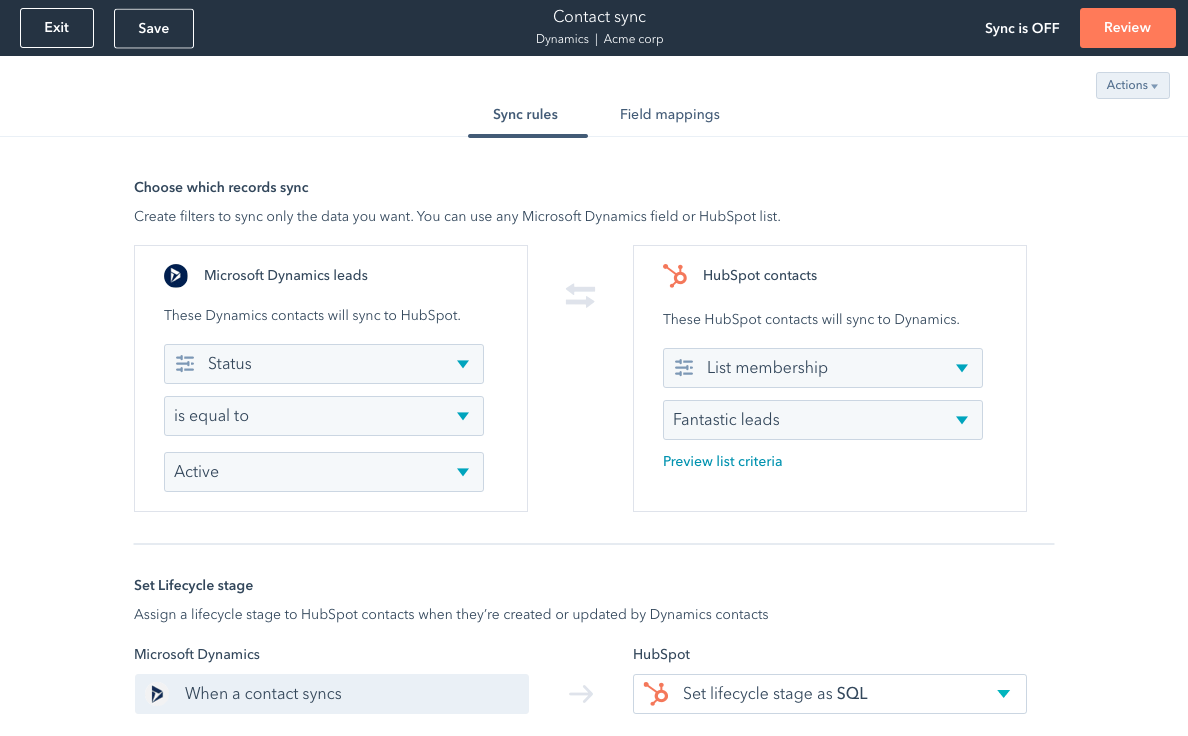 What does HubSpot's Operations Hub include?
Data deduplication: Avoid duplicate contacts and other messy data practices
Real-time, two-way data synchronization: Avoid inconsistencies across teams
Field mappings: avoid manual re-entry of contact info across platforms
Webhooks: Webhooks allow you to share data across platforms when triggered by your custom events.
Custom-coded workflow actions: You can extend functionality within HubSpot (or outside of HubSpot) by executing custom code (such as JS or Python).
Why HubSpot Popular
HubSpot is popular for many reasons. It is packed with features that help businesses grow, and it is constantly improving. We love how HubSpot makes it easy to get started and scale as your company grows.
Source of Truth (Everything is in one place)
We understand how complicated it can be if you're using spreadsheets or multiple programs to keep track of customers and manage your sales and marketing teams. But we promise: it doesn't have to be this way. HubSpot is an excellent option because it's a central hub for everything at your company.
HubSpot provides an easy way for us to write our blog posts, monitor our customers' activities, and send out monthly emails. The ability to communicate across our team is greatly enhanced, as we can always see where things are at and measure success more easily. We really appreciate the valuable data that HubSpot makes available to us.
It's easy to track and measure success.
HubSpot has updated its reporting configurations to make it easier to find the information you need to monitor key performance indicators (KPIs) and gauge success.
HubSpot provides easy-to-use tools for measuring everything and navigating to the information that matters most to you. You can even customize reports or build shareable dashboards tailored to your specific business needs.
It does not matter if we like HubSpot, the question is whether you believe it is the right tool for you.
Watch the HubSpot walkthrough
If you're interested in seeing what HubSpot is like to use, this demo video provides an in-depth look at the platform.
Let's Talk Growth!
In summary, Hubspot is a platform that helps businesses to be more efficient and effective in the way they market themselves. The platform has a number of tools available to its customers, including an Inbound Marketing platform, an email marketing platform, and a social media marketing platform.
The overall goal of the Hubspot platform is to help companies to get their content in front of their target audience, convert those potential customers into sales leads, and turn those leads into loyal customers.
While HubSpot may take some time to get used to at first, it is ultimately one of the most user-friendly growth tools available today.
At Fine media, we're all about helping our clients grow with HubSpot. As a certified HubSpot Solutions Partner Agency, we are ready to get you set up for success. We use inbound marketing strategies to deliver you the qualified traffic and leads you need for growth.