Drive Leads,
Close Customers &
Propel Growth.
We help you transform revenue operations with inbound marketing and digital technology.
Services to Help You Grow
Inbound marketing costs 62% less per lead than traditional outbound marketing.
Inbound Marketing
A business methodology that attracts customers by creating valuable content and experiences tailored to them. Simply put, inbound marketing turns strangers into brand promoters.
ESPN.com revenues jumped 35% after listening to their community and incorporating suggestions into their homepage redesign.
Growth-Driven Design
The Growth-Driven Design methodology combines lean and agile principles into a highly-effective website process that is data-driven. Your website is your best salesperson and a tool that accelerates all the other metrics throughout the business.
Companies reporting a dedicated RevOps group surged from 20% to 31% – a 55% y/y increase.
A Holistic View
RevOps gives you a holistic view of your sales, marketing, and customer service operations to provide your customers with a seamless experience from the first contact to the closed deal and beyond. Drive growth through operational efficiency and keep all teams accountable for revenue.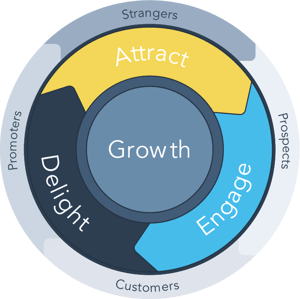 Everyone we talk to is in a unique situation. Our team will spend time getting to know your specific needs, business practices, and goals so that we can recommend the right solutions.
Strategy
Once we understand your goals, we'll work with you to determine the best inbound marketing strategy and digital tools aligned with your goals. To get our desired results we will start by developing buyer persona(s).
Setup
The technical setup of your company on our Project management and the HubSpot CRM. Creating other working environments and inbound marketing assets.
Ongoing Support
As your trusted partner, we'll be with you every step of the way. Our team of inbound professionals will do the implementation and manage the developed inbound marketing strategies.