HubSpot has become one of the leading marketing platforms in the world. If you want to propel growth with digital marketing, then you should consider working with a HubSpot partner agency.
So, you've decided to use HubSpot, which is a great decision. But, if you want to empower your business, then you need a solid foundation.
Let's take a look at an example. You might be able to design and build your own home if you're an architect or extremely handy. That's because you are confident in your ability to design a structure that will withstand the weight of the building.
The same goes for implementing HubSpot. HubSpot offers an excellent blueprint for building a successful business. However, if you are unable to map out the strategy and implement it with in-house resources alone, it may be worthwhile to consider a HubSpot-certified agency partner.
HubSpot Agency
A HubSpot partner agency is a company that has been certified as a HubSpot solutions partner.
What is HubSpot?
HubSpot is a platform built to help you grow better. The platform helps you build a fly-wheel for growth, it gives you everything you need to market, sell and service your customers.
The platform is made up of hubs like Marketing, Sales, Service, CMS, and Operations. Each hub has its features but also connects to other hubs within the same platform.
HubSpot is an integrated marketing platform that helps companies scale their business by delivering a best-in-market customer experience.
What is a HubSpot Partner Agency?
A HubSpot partner agency is a company that has been certified as a HubSpot solutions partner, which means they have gone through a rigorous certification process and have proven themselves to be experts at using HubSpot for business growth. A partner agency also has access to training resources, support, and other benefits.
A partner agency is a company that provides support for HubSpot customers. They provide training, consulting, and other services to help businesses use HubSpot effectively.
If you're ready to take your company to the next levMediahen you should consider working with Fine media. As a HubSpot partner agency, we'll help you get started with the right strategy, train your team, and keep things running smoothly
Why Work with A HubSpot Partner Agency?
If you're looking to leverage the power of HubSpot's CRM and Marketing Automation solutions, it makes sense to work with a HubSpot partner agency. Working with a HubSpot partner agency can help you avoid common pitfalls and save money throughout your relationship.
There are many different ways to use HubSpot, including self-service options like HubSpot Academy. However, there are also many benefits to working with a HubSpot solution partner.
A good partner will ensure that your implementation goes smoothly and provides ongoing support throughout the life cycle of your project.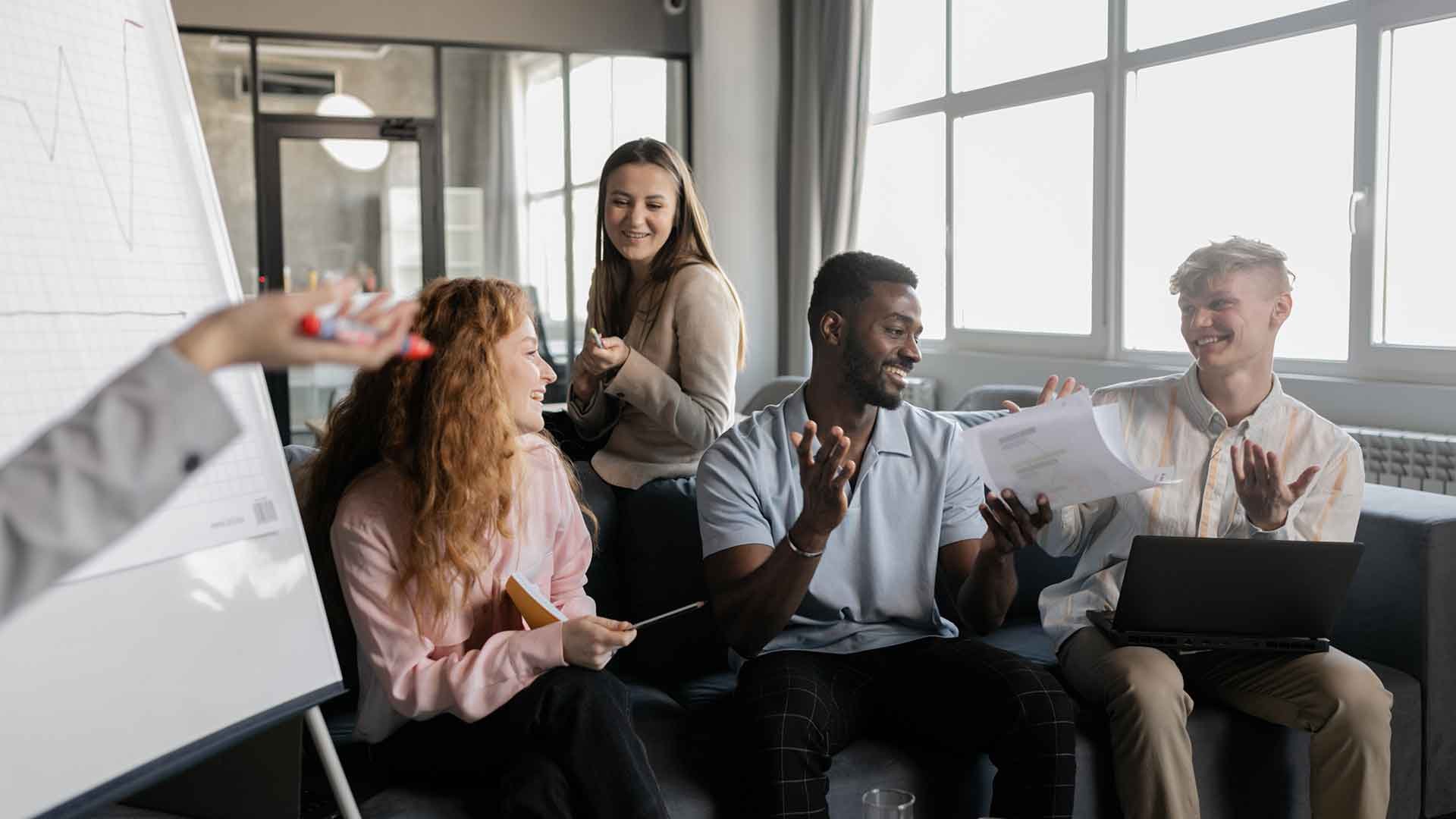 Here are some reasons why working with a HubSpot partner ensures the best experience possible:
1. A High Degree of Competence and Product Expertise
When you work with a HubSpot partner like Fine Media, you're working with an organization that has gone through the process of becoming certified to offer services related to your industry.
Our team consists of people who are passionate about what they do and experts in their field. They've earned the right to help you make your business successful.
Our team of experts will help you get up and running quickly and efficiently. We'll make sure you understand how to leverage our platform for maximum impact. And if you ever need any additional support, we've got an entire team of certified consultants standing by ready to assist you.
2. Best Practices from Working with Other Clients
HubSpot Partners also has extensive experience working to deploy and draw value out of solutions.
At Fine Media, we've been using HubSpot for several years now, so we know what works and doesn't work with HubSpot thanks to the years of experience we've had working with other HubSpot clients.
If you're working with a HubSpot partner (and you should), you won't have to pay any monthly fees while they figure out how to use it and implement it into your workflow. They'll do everything else, leaving you to concentrate on what's important - growing your business.
3. Access to Betas Product Features
Being a HubSpot Partner also means getting early access to our newest features. We're able to test out these new features before they go live to everyone else, giving us an advantage over our competition. And because we work closely with HubSpot, we know what works best for our clients, and we can help them make the most out of their investment in HubSpot.
To get a sense of what kind of changes the company might make to its products, visit the product updates page on HubSpot's website. Most of the company's updates aren't major overhauls; instead, they're mostly minor tweaks to the user experience.
But occasionally, the company adds new features that can significantly enhance your marketing efforts.
Sometimes, HubSpot launches a beta or pilot program, which eventually leads to a big release. One of the latest major releases was HubSpot's launch of the Operations Hub, which added a whole new dimension.
Partners and their clients were among the first to try out the new feature, and they were also among the first to see if it would work for them.
4. Waive HubSpot Onboarding Fees
Currently, four key components makeup HubSpot. These are the marketing hub, sales hub, service hub, and operations hub. When bundled together they become the HubSpot growth suite. The "professional" version of the HubSpot growth suite is a great deal, however, you must pay HubSpot onboarding fees to get it online.
It's an open secret that you can avoid the onboarding fee by working with an official HubSpot partner. HubSpot lets their partners waive onboarding costs, so they can invest that money on professional services instead.
5. Knowledge of Your Existing Tech Stack
If you are looking to make a change from another marketing automation tool, Fine Media can help you find the best solution for your needs. We work closely with our partners to ensure we offer the most comprehensive set of solutions to meet your needs.
Our goal is to provide you with the best experience possible. If you already have a system, we can help you migrate it into HubSpot.
We understand that every organization is unique, and we want to make sure we are offering the best solution for your specific requirements. This includes knowing what technology you use today and how it integrates with HubSpot.
6. Getting Started: Set Up Your HubSpot Portal
Getting started in your HubSpot portal can be intimidating and time-consuming. Luckily, help is available from a qualified HubSpot Agency Partner. With their experience and expertise, they can easily help you set up all the necessary settings like your blog and email domain, logo, favicon, brand settings, website navigation, and more.
Working with a HubSpot Agency Partner to get started in your portal will save you countless hours of setup time and allow you to focus on what's important — creating relevant content for your audience.
So don't let Pandora's box of portal settings keep you from making the most out of your marketing efforts. Reach out to a HubSpot Agency Partner today for a fast and efficient setup of your HubSpot Portal.
7. Expertise in HubSpot to Better Showcase How You Should Be Using HubSpot
HubSpot Partners are experts in the platform, and we understand how to customize it for your business's specific needs. We deeply understand how different sales teams use HubSpot for their purposes, allowing us to create an efficient process from the start that best suits your business.
Our expertise in HubSpot helps us showcase how you should be using the platform for your team's success. We're able to provide tailored advice on automation, pipelines, and campaigns that will drive revenue growth and help you get the most out of HubSpot's features.
With our assistance, you don't have to waste time trying to figure out what works best with HubSpot; instead, let us guide you through creating a custom process tailored to your business goals.
8. Connect HubSpot's Toolset to Your Marketing Strategy
When it comes to marketing strategies, HubSpot's toolset offers a lot of potential. With their wide range of features and capabilities, you can easily customize your customers' experience and track more than just conversions.
Whether you want to automate processes like enrolling contacts into a sales sequence, or even something as simple as sending an email, HubSpot has you covered.
Working with a HubSpot agency can help you make the most out of these features and ensure that your strategy is as effective as possible. They have the expertise needed to help you maximize the impact of your marketing efforts while making sure they are tailored to meet your specific needs.
9. Constant Access to Training Specific to Your Needs
When working with a HubSpot Partner Agency, you have access to constant training specific to your needs. HubSpot offers both agency-led and HubSpot Academy-led training so that you can learn how to utilize the platform in the most efficient way possible.
Training is key to understanding where to start first, whether it's adding a new user or creating a drag-and-drop email. With consistent and relevant training, you can make sure that all of your team members are comfortable using the platform and making the most of its features.
A HubSpot Partner Agency makes sure you get all of the support needed for the successful onboarding and implementation of their tools.
10. Agencies have a direct line to internal HubSpot resources
Partner agencies have the advantage of having a direct line to internal HubSpot resources when they need help. This means that if you are having any problems with your HubSpot account, you can rest assured that the agency you are working with can quickly and easily get in touch with the HubSpot team to help resolve any issues.
This is an invaluable asset as it cuts out a lot of time wasted waiting for support and ensures that your issue gets handled faster and more efficiently. Plus, partner agencies also have access to specialized training programs and materials to make sure they stay up-to-date on all aspects of the HubSpot platform.
This allows them to provide even better service for their clients by being able to solve problems themselves instead of relying on external assistance.
11. Data-Driven Results
As a HubSpot Agency, we understand that data is the key to driving results in digital marketing. Our team utilizes data-driven insights to inform our strategies and campaigns, while also using creative concepts that help maximize performance. This approach enables us to develop tailored solutions that are unique to each client's individual needs, ensuring that we reach or exceed their key performance indicators (KPIs).
We take a holistic approach to data-driven results, using various metrics and analytics tools to track and analyze the performance of our campaigns. This information allows us to refine our strategies and optimize our tactics for an even greater impact. Whether it's monitoring website traffic, analyzing social media engagement, or measuring conversion rates, we use data to make informed decisions that drive real results.
Our team is always learning and adapting to new trends and changes in the digital marketing landscape. We stay up to date with the latest best practices, technologies, and tools to ensure that we provide our clients with the most effective strategies possible. Our goal is to help our clients succeed and thrive in today's competitive marketplace, and data-driven results are at the heart of everything we do.
12. Inbound Marketing Experts
Inbound marketing has become a crucial element in today's digital marketing landscape. By working with a HubSpot Certified Agency Partner, you can access the latest inbound marketing tools, best practices, and educational materials. This guarantees that you're working with an experienced team of professionals who are constantly learning and improving their skills.
At Fine Media, we're committed to providing our clients with high-quality inbound marketing services. Our team is enthusiastic about continuous improvement, which means we stay up-to-date with the newest features and trends within the HubSpot platform. We also make sure to share our knowledge among our team members, so everyone can benefit from our collective expertise.
Working with an experienced HubSpot Certified Agency Partner will help your business maximize its potential through inbound marketing tactics. Certified professionals can help ensure that your brand remains competitive and successful. With a team of experts by your side, you can trust that your inbound marketing strategy will deliver results and help grow your business.
13. Always Learning. Always Growing.
HubSpot Partners are committed to providing top-notch services to help businesses thrive in today's fiercely competitive marketplace. They prioritize long-term client retention and excellent software engagement, managing several thousands of dollars in sales and inbound marketing strategies.
One of the reasons why working with a HubSpot Partner is advantageous is their valid HubSpot Partner Certification. This ensures that their expertise is up to date with the latest trends in digital marketing. By staying on top of the latest industry developments, HubSpot Partners can provide clients with the most innovative and effective strategies to help them achieve their goals.
At our agency, we pride ourselves on our experience and knowledge in the digital marketing field. We have a team of certified professionals who are always learning and growing to stay up to date with the latest industry trends. This allows us to provide tailored solutions that meet our client's unique needs and drive measurable results.
Whether you are looking to increase website traffic, generate more leads, or boost sales, our team has the expertise and resources to help you succeed. With our focus on continuous learning and improvement, you can trust us to provide you with the most effective and innovative inbound marketing strategies to help your business thrive.
Use Your HubSpot Solution with Fine media
While a HubSpot partner agency isn't right for everyone, it's a great choice for those who do not have a full-time marketing team, who need help fine-tuning their marketing strategy, and who want to streamline their overall business operations and marketing to sales.
As a HubSpot partner, Fine Media offers a wide variety of services that allow you to target and convert leads effectively. We know exactly where and how to help our clients succeed, and we use several modern marketing tools to ensure that our clients reach those objectives.
We also provide extensive training and support systems that let you build your inbound marketing strategies without having to deal with any headaches on their end.
So if you want to expand your lead generation efforts, get in touch with us today.