HubSpot first coined inbound marketing in 2006. Since then the inbound marketing methodology has grown in leaps and bounds. Inbound marketing is the next step in marketing and building your business for real growth. The idea points to a basic understanding that when your customer succeeds, you succeed too.
What is inbound marketing?
A business methodology that attracts customers by creating valuable content and experiences tailored to them. Simply put, turning strangers into brand promoters.
Inbound marketing is a strategic approach that that pulls prospects to your business. With inbound, you provide free valuable advice and insights at each stage of the buyer's journey. Empowering customers in this way helps your organization turn strangers into advocates of your brand. Inbound marketing is proven to improve conversion rates. Companies with a strong inbound strategy are 4x more likely to see conversion rates of 25% or higher. It's proven to drive revenue. Inbound marketing is the answer for companies that want to increase their average order value, increase revenue and profitability, and build customer loyalty.
How does inbound marketing work?
Inbound marketing employs a series of techniques and tactics designed to convert leads to customers and then customers to brand advocates. Inbound marketing fundamentally differs from traditional outbound marketing in its approach. Outbound marketing broadcasts to the customer and does not attempt to solve their problems. Inbound marketing, however, is about empowering your prospect with valuable content to overcome their pain points and reach their goals along the buyer's journey. Learn more about the differences between inbound and outbound marketing.
This valuable content is in the form of blogs, ebooks, infographics, videos, and more. In this way, a relative approach is possible and you are able to speak to the customer's problems at the right time.
The basics of the inbound methodology
The inbound methodology
The inbound methodology is a process of growing your business by building meaningful relationships with your prospects and customers. This is applied by guiding them with valuable information to reach their goals along the buyer's journey. The inbound methodology is applied in a three-step process: Attract, Engage, and Delight.
Attract
In the attract phase prospects are reached and empowered with valuable social media publishing, blog articles, offers, and other related content which established you as a trusted adviser.
Engage
When engaging prospects businesses share ideas, insights, and answers that support the prospect's pain points and goals so they are more likely to purchase your product or services.
Delight
To delight a customer means providing benefit and support to empower them to find success with their purchase.
The buyer's journey
The way people buy has changed. Customers have embraced evolving technology as a way to better their control over their own purchasing process. They're better informed, have higher expectations about the quality and relevance of the content they consume.
The days of businesses telling consumers what to buy are long gone, today consumers have a plethora of choices in the palm of their hands. With the power of a smartphone, the buyer is more educated about the offer than the salesperson.
Think about the last time you wanted to order food, the specifications of your next car, or even when you plan your next vacation. The likelihood that it will start with an online search is very high. As a consumer, you probably looked at reviews, technical information, compared menus, and other options online. You are aware that salespeople will always recommend their product or service over any available option.
There are four stages in a buyer's journey. We have highlighted the type of value of content for you to produce at each phase.
Buyer Persona
A buyer persona is a semi-fictional representation of your ideal customer. Your business can identify a buyer persona by using real data, educated speculation, motivations, and goals. By understanding your customer groups, you are able to tailor the consumer experiences, engage them, and ultimately turn them into brand advocates. This then gives your business consumer-driven growth.
Understanding your buyer persona(s) enable you to:
Build data-driven products and services
Build and run relatable marketing campaigns
Increase your conversion rate
Improve your customer service
The Flywheel
The flywheel cements the inbound methodology and makes the picture clearer.
Investing in suitable inbound strategies gives the flywheel the momentum it needs. Your business will be able to deliver the best customer experience and turn strangers into promoters of your brand. Alternatively, anything that slows down the desired momentum is friction.
A flywheel gives you a bird's eye view of your marketing, sales, and service efforts. With the inbound established in your organization, you are able to address any friction throughout the buyer's experience.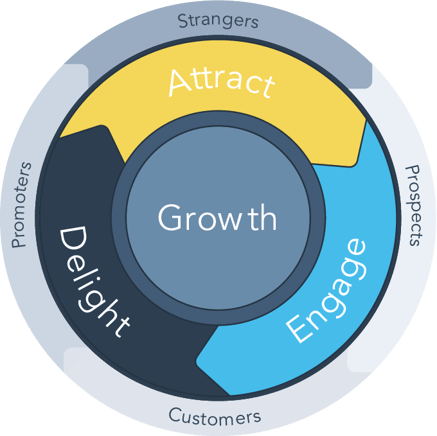 Delighting your customer beyond the purchase is the fuel you need to keep the momentum of the flywheel growing. This gives voice to customer-driven growth. A delighted customer is highly likely to share your business with people they know, which generates free leads for your business (the priceless power of word-of-mouth marketing).
What are the benefits of inbound marketing?
Inbound positions your business as an authority in your industry.
An Inbound marketing investment has higher returns than outbound marketing per lead.
Inbound marketing is a Data-driven approach that gives insights into customer behavior.
Inbound builds customer loyalty and retention.
It advises on how to allocate a marketing budget.
Conclusion: Is inbound Marketing worth it?
HubSpot found that inbound marketing-dominated organizations experience a 61% lower cost per lead than organizations that predominately leverage outbound marketing. Inbound marketing takes clear SMART goals, research, a well-planned strategy and implementation, and a clear picture of the whole process.