Have you ever heard of inbound marketing? Have you ever wondered why some companies get more leads than others? The answer might lie in their marketing strategy. While some businesses rely heavily on advertising, others focus on building relationships with potential customers.

It is important to note that Inbound Marketing is not a technique or a tool. Instead, it's a mindset that helps businesses identify their target audience, create content that resonates with them, and connect with them.

Inbound marketing has become a significant part of successful businesses because it helps them gain more traffic from their existing customers. Inbound marketing aims to attract new leads and convert them into paying customers.

This article explains why inbound marketing is essential for businesses and provides some examples.
Inbound Marketing
A business methodology that attracts customers by creating valuable content and experiences tailored to them. Simply put, turning strangers into brand promoters.
What is Inbound Marketing?
Inbound marketing is an effective digital marketing strategy for growing your business by creating high-quality content that attracts targeted prospects. With this approach, you create content that solves your target audience's problems and helps them achieve their goals.
Content should inspire action, not just interest. When done well, inbound marketing can help you attract, convert, and retain qualified leads. Empowering customers in this way helps your organization turn strangers into advocates of your brand.
Inbound marketing is proven to improve conversion rates. Companies with a solid inbound strategy are 4x more likely to see conversion rates of 25% or higher. Inbound marketing is the answer for companies that want to increase their average order value, increase revenue and profitability, and build customer loyalty.
Unlocking the Sweet Success of Inbound Marketing: A Bakery Analogy
Imagine your business as a friendly neighborhood bakery. Inbound marketing is like the sweet aroma of freshly baked goods wafting down the street, drawing customers in without any pushy sales tactics.
Instead of chasing customers down the block, inbound marketing invites them in with valuable content, helpful resources, and a warm, welcoming storefront (your website). It's about building a community of loyal customers who keep coming back for more, just like your favorite bakery treats.
So, what is inbound marketing? It's the secret recipe that turns strangers into delighted customers, one delicious interaction at a time.
Why Use an Inbound Marketing Strategy?
The reason why you should use an Inbound Marketing strategy is that it allows people who are looking for what you have to offer to find you. It's not just about selling products and services but also about helping them solve problems and building meaningful relationships with your potential customers.
Inbound Marketing strategies allow you to focus on creating useful and valuable content for your target market. This type of marketing also enables you to create a relationship with your customer by providing value first and foremost.
This type of marketing focuses on helping your business grow rather than selling products or services. By focusing on growing your business, you're creating long-term success. You'll be much happier if you do this instead of spending all your time working hard on sales.
Inbound marketing is a great way to promote your brand. There are several benefits to using an inbound marketing strategy, some of which include:
1. Inbound marketing increases conversions. According to HubSpot, businesses that use inbound marketing methods have seen conversion rates up to 4 times greater than those that don't.
2. It attracts quality leads. Inbound marketing generates qualified leads through content that addresses pain points, solves problems, and answers questions. This content also encourages people to share it with friends and family.
3. It builds trust. A study by Kissmetrics found that when consumers read articles about brands they like, they tend to trust those brands more.
4. It creates loyal customers. People who engage with your company and its products are more likely to come back again and again. They will be willing to recommend your product to their friends and colleagues.
5. It saves time. Creating content takes time. But if you know what you're doing, you can save hours of work by focusing on creating engaging content instead of writing ads.
6. It makes money. You can make money off of inbound marketing strategies. For example, Hubspot found that 49.7% of companies using inbound marketing increase sales within 7 months.
7. It's scalable. You can use inbound marketing techniques immediately if you already have a website.
8. It's easy to implement. Once you've created the content, all you need to do is publish it online and promote it.
9. It doesn't require a huge budget. While hiring a team of writers might seem expensive at first, once you get started, you'll find that it's much cheaper than traditional advertising campaigns.
10. It's less risky. Traditional marketing often involves spending money on paid advertisements. These ads may not perform as expected and could even hurt your reputation.
11. It works for any industry. No matter what kind of business you run, there are ways to apply inbound marketing techniques to grow your business.
12. It's effective. An infographic from Unbounce showed that 68% of marketers say that inbound marketing has helped them generate new leads.
13. It's measurable. You can track how many visitors you receive, where they came from, and how long they spend on your site.
14. It improves SEO. Google rewards websites that provide valuable information. By publishing helpful content, you can boost your rankings.
How does Inbound Marketing Work?
The basic idea behind inbound marketing is simple: Create high-quality content that helps potential clients solve their problems. Then, use this content to attract visitors to your site. When these visitors arrive, they should feel compelled to take action. This means filling out forms, buying products, or signing up for services.
Inbound marketing aims to create quality content that people want to share. You must focus on providing value rather than selling things to achieve this.
Inbound marketing isn't just about posting blog posts and tweeting links to your website. Instead, it would be best to consider it a process that includes content creation and promotion.
You must note that Inbound marketing fundamentally differs from traditional outbound marketing in its approach.
Outbound marketing broadcasts to the customer and does not attempt to solve their problems. Inbound marketing empowers your prospect with valuable content to overcome their pain points and reach their goals along the buyer's journey.
Learn more about the differences between inbound and outbound marketing.
The
B

asics of the Inbound methodology
Inbound marketing methodology
The inbound methodology is a process of growing your business by building meaningful relationships with your prospects and customers. This is applied by guiding them with valuable information to reach their goals along the buyer's journey.
Inbound marketing focuses primarily on creating high-quality content that attracts potential customers to your business. They are already searching online, researching your industry and your competition, checking out your products and services, and deciding if they need them. Your goal is to create content specifically for each stage of the buying process so that you can capture these interested prospects when they're most likely to be online searching for solutions.
When you align your content with your customer's interests, you naturally attract visitors that you can convert into leads and eventually into paying customers.
The inbound methodology is applied in a three-step process: Attract, Engage, and Delight.
Attract
Inbound Marketing is about attracting customers by creating compelling and informative content creation. Content should speak to the needs of your audience, not your own company. Your content should also be aligned with your buyer persona.
It would help if you started with an understanding of who your target market is and what their problems are. What kind of content would appeal to them? Where do they hang out online? Whom are they reading? You can produce content that speaks directly to the reader by answering these questions.
In the attract phase, you reach and empower prospects with valuable social media publishing, blog articles, offers, and other related content, establishing you as a trusted adviser.
Engage
When engaging prospects, businesses share ideas, insights, and answers that support the prospect's pain points and goals, making them more likely to purchase your product or services.
To use inbound marketing strategies effectively, you need to communicate with leads and customers in ways that make them want to build long-term relationships with you. Whenever you use these engagement strategies, include information about the value your company provides.
Engagement strategies can include how you handle and man­age your inbound sales calls, as well as how you engage with your prospects. It would help if you focused on how customer service representatives deal with calls from interested people and prospective clients. You should also make sure you are always selling solutions rather than products. This will ensure all transactions between your business and its customers are mutually beneficial.
Delight
Inbound marketing is often overlooked when it comes to referral generation. However, once someone becomes a customer, they must be engaged and happy. You will continue to publish and distribute content that helps your customers use your products and services more effectively and delight them as partners and thought leaders.
Incorporating intelligent, well-timed chatbots and surveys to assist, support, and request feedback from customers is a great way to delight these people. Bots and surveys should be shared at specific points throughout the customer's journey to ensure they make sense and are of value.
For example, Using thoughtful, well-timed chatbots and surveys to help your customers is an excellent way of delighting them. Chatbots and surveys should be shared throughout the customer's journey to ensure they make sense and are of value. If you share them too early, you risk confusing them, and if you share them too late, you risk losing them.
The Buyer's Journey
The way people buy has changed. Customers have embraced evolving technology as a way to better their control over their purchasing process. They're better informed and have higher expectations about the customer experience, so companies must adapt to meet those needs by providing relevant content.
The buyer's journey is the blueprint for success in today's digital world. It explains how buyers interact with various touchpoints across the buying cycle.
The buyer's journey is an approach to understanding how customers move through a buying cycle. It starts when they first encounter your brand, continues through their research into what they want, and ends at the point of purchase.
For example, take the process of buying a car.
1. The buyer's journey starts with research. Before deciding, you want to know everything about the product or service.
2. Once you decide that you are ready to buy, you will start looking for a store where you can purchase the item. This could be a physical store (like Amazon) or an online store (like eBay).
3. Next, you will begin the buying process by adding items to your cart. If you decide to purchase from a brick-and-mortar store, you will then proceed to checkout.
Buyer Persona
A buyer persona is a semi-fictional representation of your ideal customer. Your business can identify a buyer persona using accurate data, educated speculation, motivations, and goals. By understanding your customer groups, you can tailor the consumer experiences, engage them, and turn them into brand advocates. This then gives your business data-driven growth.
Benefits of developing a buyer persona
1. Relevant inbound marketing campaigns. Once you understand buyer personas, you can create a relevant inbound marketing strategy.
2. Consistency Across Your Business. Marketing and sales teams are more effective when speaking to the exact ideal persona. The marketing team will be able to create compelling content for the target customer, and the sales team will nurture leads into customers. This also makes for a great customer experience throughout the entire process.
3. Better Product Development. With well-developed customer personas, you can develop products and services better aligned with your customers' needs.
4. Better Quality Leads. With a clear picture of your ideal customer, your inbound marketing efforts will be directed to the right people in the right places, giving you the powerful opportunity to generate better-quality leads.
5. Make data-driven decisions. Several inbound marketing tactics can be used to help you achieve your business goals. The buyer persona research informs you on the best and most profitable way to reach your target personas. Data decisions will, in turn, help increase your return on investment.
6. Increased sales. A buyer persona allows you to focus on creating relevant content that speaks directly to your audience.
The Flywheel
The Flywheel cements the inbound methodology and helps you build a solid foundation for your company. Inbound marketing is built around the Flywheel model of customer engagement, which places the customer experience at the center.
The Flywheel is a model adapted by HubSpot to explain the momentum you gain when you align your entire organization around delivering a remarkable customer experience. The model describes the stages of the customer journey over time. It starts with awareness, moves through engagement, and ends in the delight stage.
With the flywheel, you use the momentum of your happy customers to drive referrals and repeat sales.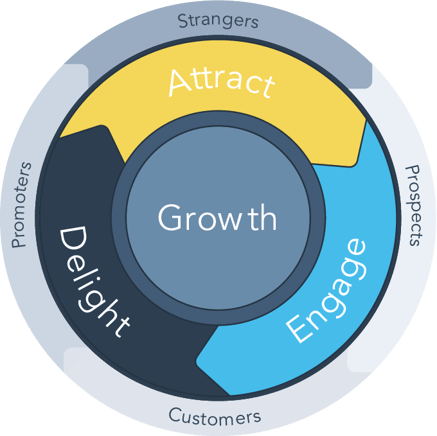 Delighting your customer beyond the purchase is the fuel you need to keep the flywheel's momentum growing. A delighted customer is highly likely to share your business with people they know, generating free leads for your business, which is good for customer retention.
Marketing Automation
Inbound marketing uses automation as one of its core tools. You can automate many aspects of your inbound marketing campaign, including lead nurturing, email marketing, social media management, website optimization, and more.
Using software like HubSpot to automate these processes frees up your time so you can spend on other essential tasks like increasing your conversion rate or improving your product.
Inbound Marketing Elements
If you want to ensure your website gets found by people searching for your product or service online, you should consider investing in some form of inbound marketing. This includes social media advertising, email marketing, and content marketing.
These different marketing forms should work together to create a cohesive strategy that supports your objectives.
You can start using these techniques today - although it may take some time before you see results from any approach. However, the sooner you get started on an inbound marketing plan, the better off you will be when it comes to getting traffic to your site.
The essential elements of an inbound marketing strategy include:
1. Company Website
2. Content creation
3. Content marketing
4. Search engine optimization (SEO)
Examples of Inbound Marketing
There are many ways to implement inbound marketing strategies. Here are just a few examples of how companies have used them successfully:
1. Social Media Advertising
Social media has become one of the most effective ways to market your brand. You can advertise on Facebook, LinkedIn, Twitter, TikTok, YouTube, Pinterest, Instagram, and other platforms. These platforms allow you to connect with potential customers and encourage them to visit your website.
Social media ads are cost-effective because they let you target specific groups of people based on their interests and demographics. For example, selling lawnmowers might advertise only to men who live near golf courses.
2. Email Marketing
Email marketing is another excellent tool for driving visitors to your website. When someone signs up for your newsletter, they receive regular emails about new products and services.
Email campaigns are also helpful in nurturing relationships with current customers. You can reward loyal customers if you send a promotional offer, such as a coupon code.
3. SEO
Search Engine Optimization (SEO) improves your company's visibility on search engines like Google, Bing, and Yahoo!
When people perform searches on search engines, they usually type keywords into the search bar. The websites that appear at the top of the list rank high for the keywords typed into the search box.
When you optimize your website for keywords, you ensure that your page appears in the search results whenever someone types in a keyword related to your product or service.
4. Blogging
Blogging is a great way to build authority around your brand. Regularly publishing blog posts builds trust among readers and encourages them to return to your website.
Blogging is also an excellent way to share industry news and information. People often turn to blogs for advice on business management and personal finance.
5. Podcasting
Podcasts are audio files that contain interviews with experts in your field. They're similar to radio shows, but instead of listening to a single host talk about a topic, listeners can listen to multiple hosts discuss the same subject.
Podcasts are especially popular with busy professionals who don't have time to read long articles. Because podcasts are short, they can easily be listened to while commuting or doing chores.
6. Online Communities
Online communities are social networks where members communicate through messages, photos, videos, and more. Some online communities are dedicated to a particular interest, such as gardening. Others are open to anyone interested in sharing ideas.
Online communities are an excellent way to promote your brand. Your message will reach thousands of people at once, which means you'll get plenty of exposure without spending much money.
7. Video Marketing
Video marketing is one of the most effective ways to boost traffic to your website. Videos can include tutorials, explainer videos, branded videos, and more.
Videos can help you connect with your audience by providing entertainment, helpful tips, showing how your products work, or telling a story.
Conclusion: Is Inbound Marketing worth it?
Inbound marketing provides a more significant ROI than other forms of marketing because it focuses on building relationships rather than selling. It creates a positive first impression and helps companies establish credibility.
HubSpot found that inbound marketing-dominated organizations experience a 61% lower cost per lead than organizations that predominately leverage outbound marketing. Inbound marketing takes clear SMART goals, research, a well-planned strategy and implementation, and a clear picture of the whole process.
The bottom line is that inbound marketing is a proven method of generating leads and increasing sales. Inbound marketing is worth trying if you want to grow your business.