Are you looking to improve your website's conversion rate? Conversion rate optimization (CRO) is a data-driven approach to increasing the percentage of visitors to your website who take the desired action, such as making a purchase or signing up for a newsletter.
If you're new to CRO, or even if you're experienced but looking for some fresh ideas, this blog post will give you everything you need to get started. We'll cover the basics of CRO, including what it is, what you can hope to achieve with it, and how to get started with your own CRO initiatives.
Conversion Rate Optimization (CRO)

Conversion Rate Optimization or CRO is the process of improving website traffic by optimizing the user experience on your site.
How to calculate your conversion rate
Before starting the journey to conversion optimization, it is best to understand your conversion rates, so that you know what, exactly, you are looking to improve.
For example, if you had 50,000 visitors in one month, and 1300 people became customers, then your conversion rate would be 2.6% (1300/50,000 x 100 = 2.6%).
You can also perform this formula on single landing pages and product pages.
While most eCommerce platforms will display conversions for your website in an analytics dashboard, it is always best to test your reports using your own math using the above formulas, as well as raw sources such as Google Analytics or checkout data.
Also, paying attention to the various time frames while analyzing conversion rates is important.
For instance, your conversion rates may be much higher in the holidays, or during "in-season" periods, compared with the rest of the year. Your conversion rate may have dropped drastically over the past 90 days, but looking at an average of the past 12 months may calm any concerns. Conversion rates always need to be evaluated within a context.
What's Considered A "Good" Conversion Rate?
There isn't one universal, uniform number that qualifies as a "good" conversion rate. What has even been considered an "average" conversion rate differs by industry, niche, campaign, and particular conversion goals?
It all depends on whom you ask, though, the average global conversion rate is somewhere between 2% - 5%.
This may not necessarily be the case for you. In fact, a better measurement of what is considered average is to take a look at past and present conversion rates and compare those with the results of the future.
Instead of dwelling on what is considered "good" conversion rates, you are better off focusing more on what drives your target audience and then providing them with the value they need.
How to get started with your CRO strategy
It may be tempting to start editing your site right away and going full-on optimization, but what works for one site, does not work for another.
You could just go with the flow and "follow your gut" or blindly implement "best practices," but this usually does more harm than good. Even when it works, it only gets you so far, so we often say best practices are the fastest route to nowhere.
Rather, we recommend taking a look at what the data says, through a Growth-Driven design framework. From there build a strategy that will help you reach the best, this is not to say you will get it right the first time. With a continuous learning approach the who business will benefit and over time reduce your operation costs.
We are advocates for understating what your visitors want and need in order to be comfortable enough to complete their entire purchase journey.
Here are the steps to get started the right way with CRO.
1. Analyze your conversion funnel
The first and most important step is determining any potential sticking points in your conversion funnel. Think of it like a step-by-step journey, and keep an eye on how many people visit your website, then the percentage who continue to add the product to their cart, then the percentage who continue to checkout, and lastly, the percentage who actually complete a purchase.
Please note: If you offer services, your expected action for your visitors may be contacting sales for more information or a formal quote.
Look into your analytics to see where shoppers are leaving (check out your bounce rate), what pages are getting most of the traffic, and where your conversion rates are the lowest.
Knowing those numbers helps you identify parts of your funnel that could use a little polish.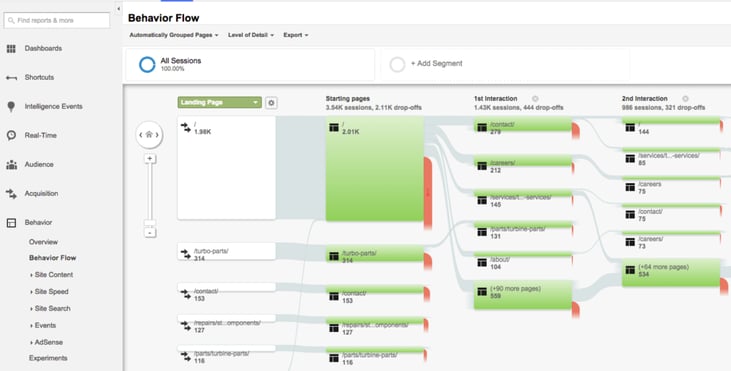 2. Set Conversion Goals
Setting conversion goals does not mean pulling percentages out of thin air with no data to back them up. Or settling on "industry averages" or "benchmarks" that don't have any context built into your audience, your product, pricing, or operational efforts.
For instance, do not say that you "want 50 extra conversions per web page". Instead, say you want 50 more conversions per every 5,000 people that come.
With your overall conversion rate, you can set a couple of other conversion goals:
The number of Net New Customers: divide your net revenue goal by your average sales price to determine how many new customers you need to convert each month.
Lead Goal: divide the number of new customers by your lead-to-customer close rate to figure out how many new leads you need to get each month to hit your conversion goal.
3. Tap into qualitative and quantitative data
We mentioned earlier about digging into your Google Analytics to find critical insights, but if you want to build a solid conversion optimization strategy that touches all parts of the funnel, it is essential that you integrate both qualitative and quantitative data.
For example, your metrics might tell you where shoppers are dropping off, but they don't tell you why.
To find out, you have to use qualitative data techniques, such as surveys, user tests, or heatmaps, to find where the real friction points are. Getting real-world feedback from actual humans gives you some context for numbers, and it can help you plan a future marketing CRO strategy.
4. Identify potential tests to run
Testing is going to be an enormous part of your CRO strategy. With the data sources that you have, you can begin to paint the picture of what your customers really want.
Set the initial tests that you want to run -- if, for instance, you noticed your checkout form was driving abandonment because it was too long, try testing with a shorter form and seeing how it impacts conversion rates.
You don't have to run all of your tests at once. When you are just starting out, you shouldn't ever run more than one test per given page, because you risk having your results affected by more variables, so you won't ever really know what works.
Instead, use this time to determine the potential tests that you could be running. Create a "to-do list" of tests, both qualitative and quantitative, that then goes into your CROs workflow.
5. Create a strategy or CRO workflow
Conversion optimization is a continuous process, and it is one that will never stop (because, let us face it, reaching that ideal 100% conversion rate is not possible). The idea of conversion rate optimization marketing is you are continually nudging yourself toward higher conversion rates through testing, tuning, and tracking on a regular basis.
Once you figure out your sticking points in your conversion funnel, and you have laid out some tests that you can begin running, be sure to schedule some time to measure the results, then build out new hypotheses from there.
Ideally, you should keep records of the workflow for CRO on a project management tool such as HubSpot. We suggest keeping a backlog of test ideas, as well as tracking the tests that are actively running, across brainstorming, design, analytics, and report phases.
This way, you have continually reminded not only about testing tuning but to review and use it regularly to inform larger decisions.
How to integrate a CRO team to improve your results
CRO is such a crucial component in eCommerce, yet many brands leave it on the back burner to focus on driving traffic or spending money on poor-performing advertising campaigns. And, when they remember to pay attention to conversion rates, they just throw a CTA in some pages and call it a day.
The proof is truly in the numbers, however: a few simple changes here and there can make a huge difference in your bottom line, so having a dedicated conversion rate optimization marketing team working hard on conversion marketing can be extremely helpful.
There are two ways you can do this:
1. Hire an internal team
Build your own in-house team of CRO experts. This can be a great way to get results from within and to work with someone who knows your brand inside out, but hiring a whole new team can be expensive, especially if you are a smaller company or you are just starting. The alternative is working with a skilled CRO agency.
2. Work with a dedicated CRO agency
The alternative is working with a skilled CRO agency. This gives you access to seasoned professionals that understand the ins and outs of conversion rate optimization, and who can devote their time and energy to improving your results, while you and your in-house team concentrate on other parts of your business.
When working with an outside team, you will usually gain access to a toolkit of conversion rate optimization tools that would likely be extremely expensive for you to obtain independently, and also you will have direct lines with experts in the field who are always keeping an eye on the CRO pulse.
If you do choose to go it alone, these are just a few tools that you will need to start:
Heat map tools
User testing tools
A/B testing tools
Survey tools
Working with our team, at Fine media, you are assured to be working with experienced inbound marketing professionals who are skilled in CRO.
Use CRO in your broader marketing strategy
The role of CRO in marketing is to help identify which marketing strategies are most effective in driving conversions and revenue. This encompasses a wide range of tactics, from email marketing and PPC campaigns to SEO and social media marketing. By constantly testing and optimizing campaigns, CRO ensures that marketing efforts are as effective as possible.
All these marketing efforts are focused on driving traffic to your website, increasing brand awareness, and keeping customers engaged. However, if people arrive at your website and do not convert, then all your marketing efforts are wasted.
There is a common misconception that CRO should only be implemented after a successful SEO campaign. Many clients have seen success with their SEO efforts but are reluctant to adopt a CRO strategy for fear of undoing all of their hard work. However, CRO and SEO are actually complementary and can work together to create an even more successful online presence.
Google encourages website owners to test their site's performance and user experience in order to create a better overall experience for their users.
If you want to optimize your website for growth, our team of inbound marketing experts is ready to position you for success.