What is growth-driven design? Have you ever wanted a website that changes with consumer needs? A website that adapts to user behaviour? Or one that grows organically with your company's success?

Growth-driven design (GDD) is a methodology that helps you achieve those goals by providing clear direction and actionable insights into which pages should be redesigned first, where they should go, and why.

It also provides a framework for designing websites that are more intuitive, engaging, and effective.

Read on to learn more about what growth-driven design is.
Growth-Driven Design (GDD)
Growth-Driven Design (GDD) is an efficient and productive method of designing and developing a website that is always adapting to user interests, using data.
GDD versus Traditional Web Development
The traditional website design process is broken. It's time to change it. The headaches, challenges, and inconsistent results we encounter during a website redesign are a direct result of an outdated and broken website design playbook.

If you've experienced the traditional web development process, where you spend 3-4 months together collectively deciding website content, and then take another 4 months designing and programming it, and then launch, then my heart goes out to you. It was like creating an enormous brochure: spend a lot of time, money, and effort developing it, wait a few years for it to become outdated, and then go through the whole process again.

Growth-Driven Design is a smarter approach to web design that eliminates all of the headaches and drives optimal results using data.
A website developed through GDD evolves through learning and continuous improvement resulting in a measurable, high-performing website.

The GDD web design process borrows from agile thinking and lean practices. The mindset is a continuous improvement methodology. Smart marketers build websites that work hard and continually adapt so they better attract and engage their target audience.
To drive home the message, HubSpot's, Luke Summerfield, uses the illustration below to explain the heightened costs and time associated with a traditional website design process.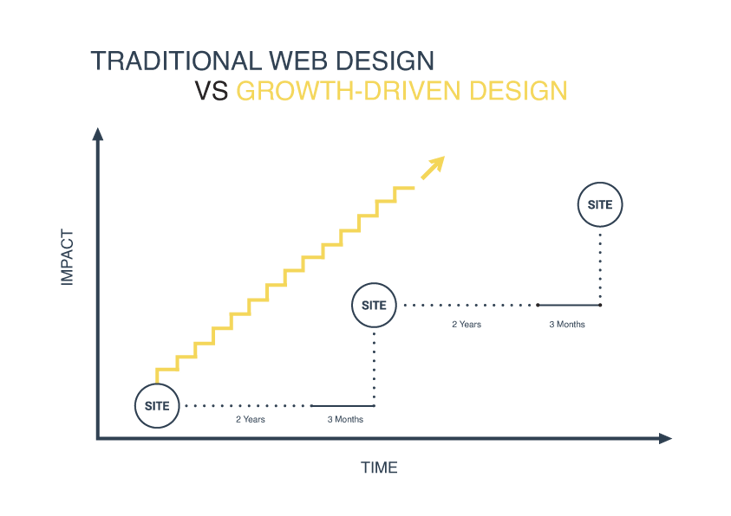 Defining Growth-Driven design
The growth-driven design approach aims to reduce the risks of traditional web development through a systematic approach that reduces the time to launch by concentrating on real impact and continuous learning and improvement
GDD is a continuous learning and improvement process. It is not a one-time event, but instead a series of sprints. These sprints are short periods during which we focus on improving our product and our processes. We then move on to the next sprint.
Rather than undertaking a complete site redesign every 2 to 3 years, with stale content that doesn't align with your organization's priorities and that isn't relevant to website visitors today, GDD succeeds by continuously improving your site based on testing and research that is derived from visitor behaviour on your site.
Instead of tying up the marketing team for months, GDD is tightly integrated with marketing, sales, and customer support.
Marketing and sales use learnings from site visitors to inform and improve their strategies and tactics.
GDD provides a more adaptive model where businesses can change their marketing plans based on the conditions and hurdles they encounter.
A Growth-Driven Design approach
GDD is a methodical approach to building websites that focuses on user experience, conversion optimization, and analytics.
A growth-driven web design approach is:
Iterative
User-focused
Always optimized
Iterative
Unlike a traditional web design process where the plan-develop-test-watch cycle can take several years, the GDD cycle is a continuous cycle of short "Sprints." These are short-defined periods that can last from one week to three months; Fine Media sprints or design cycles are typically four weeks. During a sprint cycle, the marketing team at a company or its marketing partner reviews performance and works on improvements to the site.
Focused on the user
The best products are those that focus on the user. They're designed around the needs of people, rather than the desires of businesses.
It is important to keep in mind that improvements made to a GDD site during a sprint cycle aren't based on the whims of a company's marketing or management team. Any changes are based on data that shows you and your team how visitors are using the site. Improvements are made based on the user experience.
Some examples of data-driven changes:
Make fields easier to fill out by reducing the number of required forms.
Add page anchors to increase time spent on a page.
Include calls-to-action that link to high-converting content to increase conversion rates.
Create local contact pages to increase inquiries to local branches
Always optimized
The primary objective of a GDD site is to deliver what prospects are looking for, which means that it is constantly in a state of optimization. This is done through A/B tests, multivariate testing, and other methods.
As an example, if you have a landing page that isn't converting well, you might want to test different headlines to see which ones convert better. If you find that certain headlines perform better than others, you can make adjustments accordingly.
You should also be testing variations of images, colours, fonts, and copy.
How does Growth-Driven Design work?
The goal of the growth-driven design methodology is to help businesses grow. This includes both small startups and large corporations. To do this, you must understand how people interact with technology and what drives them to use certain products. You must know what makes them tick.

Growth-Driven Design (GDD) is a methodology that helps companies design better experiences. It combines lean and agile methods into one framework. Lean methods focus on getting things done quickly; agile methods focus on continuously improving processes. Together, they form a powerful combination.

A typical GDD project begins with research and discovery. During this phase, teams conduct interviews with customers and prospects to learn about their needs and desires. We ask questions like "What problems does our product solve?" and "How could we improve our product?" Then, we build prototypes and test them with real people.

Once the prototype is ready, our team moves into implementation. In this phase, we start building out the features and functionality required to make the product successful. At this stage, we begin testing the product again with real people.

Finally, once everything works well, our team moves into continuous improvement. Continuous Improvement focuses on keeping the product running smoothly. If there are bugs, we fix them. If something breaks, we find a workaround and explore other opportunities for business growth.
The growth-driven design process has three phases:
The Strategy phase
The Launchpad phase
The Iterative development and continuous Improvement phase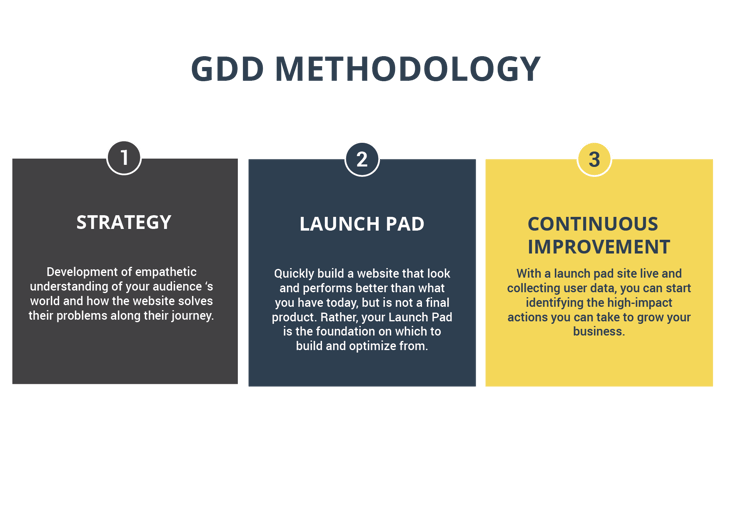 Phase 1: Strategy
Analyze existing metrics, if available
Map buyer personas and buyer's Journey
Articulate positioning
Search Engine Optimization (SEO)
Develop a Wishlist
Phase 2: Launch
Refresh the existing website
Kickstart data gathering
Expand in phases
Phase 3: Continuous Improvement
Plan
Build
Learn
Transfer
At Fine Media, we believe that a website is your number one salesperson and that it should be part of a more extensive marketing strategy. We typically redesign websites for companies with a clearly defined growth plan using a web presence to connect with customers. Our goal is to help our clients grow their businesses through effective digital marketing strategies.
If you don't have one we can help you develop yours.
Websites are never finished
Your website should be viewed as a living team member. Just like your business, it will grow, adjust, pivot, and change. A poorly designed website is a liability. Your website needs to be updated regularly, and you need to keep an eye out for any problems that may arise.
We practice what we preach when we talk about our websites. We use our approach to agile development to minimize risk, and continuously improve and inform our marketing and sales efforts. We do the same thing for our clients.
We've collected and analyzed data from past projects over the years and integrated those insights into our site redesign planning processes. This helps us reduce the number of assumptions we have to make, and create a stronger design process.
We've leveraged this data to integrate several tools into our operating framework that allows us to build launchpad websites quickly and efficiently, which reduces the cost of web design.
The most important takeaway, we've learned that a beautiful website won't drive sales if it doesn't provide value to customers. Your website should make it easy for customers to learn and get answers to questions. If you combine an effective marketing strategy with a fast, user-friendly website, you can truly transform your business. However, you need both.
If you aren't sure what your website needs to accomplish your business goals, talk with us. We won't sell a website you don't want — but if you're looking to create a new site, we will use data and our experience to design a site that works for you.