Are you familiar with HubSpot and inbound marketing? Did you know that they can significantly impact your business growth? As a business owner or marketer, understanding the latest statistics and trends in this area can help you make informed decisions and stay ahead of the competition.

HubSpot is a leading inbound marketing and sales software platform that helps businesses attract, engage, and delight customers. Inbound marketing is a methodology that focuses on creating valuable content and experiences to attract and retain customers, rather than interrupting them with ads or sales pitches.

In this article, we will explore some of the most compelling statistics and trends related to HubSpot and inbound marketing.
HubSpot Statistics
HubSpot is an overall business development and enhancement tool that makes handling your leads, customers, and visitors a breeze.t has a list of seamless integration, and that's one of the top reasons its users love it.
HubSpot Sales was named the

top CRM in G2's Spring 2022 CRM Grid.

HubSpot has

135,000+ clients in over 120 countries.

Its easy-to-use integrations and powerful tools attract, engage, and delight every customer.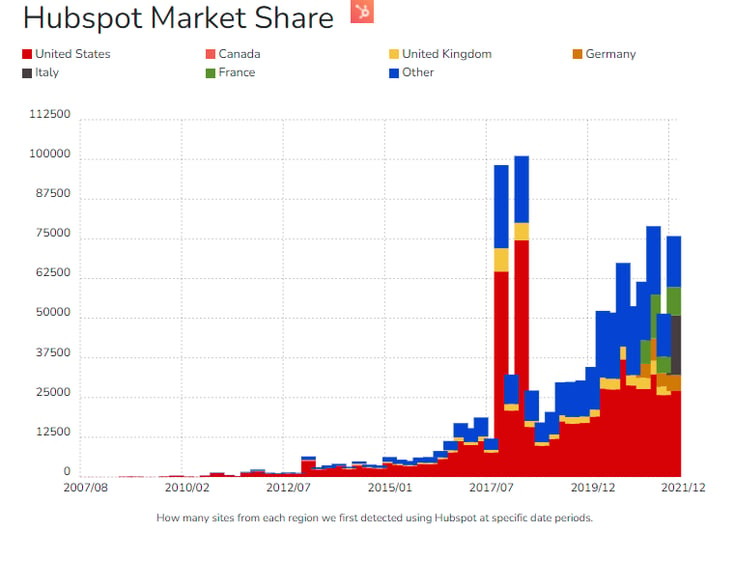 HubSpot has a hardworking staff of more than 5.9 thousand globally.

The Glassdoor Employees' Choice Award named HubSpot the #2 Best Place to Work in 2022.

HubSpot's App Ecosystem now has over 1,000 integrations, demonstrating the company's commitment to platform expansion.

HubSpot invests $7.5 million in minority depository institutions to help black businesses, communities, and families thrive economically. Back in 2020, HubSpot made a $20 Million social impact investing commitment.

HubSpot ventures announced a new $100 Million Fund to support scaling businesses in their endeavors.

HubSpot recorded total revenue of $1.30 billion, up 47% compared to 2020. Hence, the HubSpot sales statistics must also be strong.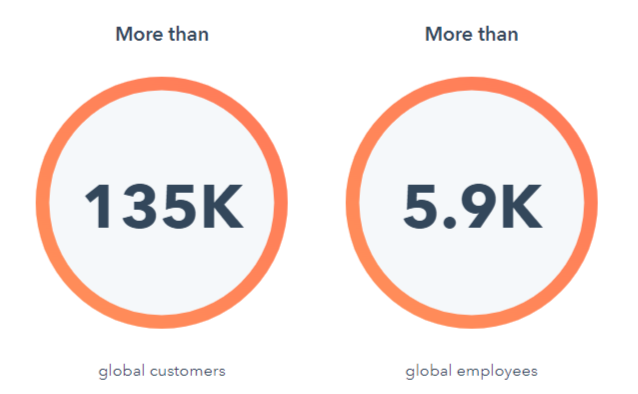 What is Inbound Marketing?
Inbound marketing is a combination of marketing strategies designed to attract, engage, and convert visitors into customers. The goal is to create leads and sales through organic traffic.
It's all about creating valuable content and sharing it across social media platforms. This means that you should focus on building relationships with potential buyers rather than selling them something.
Content Strategy
A content strategy can help you plan the creation and distribution of your content. It includes defining who your audience is, how they typically consume information, and which channels would be best suited to reach them.
A content strategy also identifies goals for your content. These include increasing engagement, driving conversions, improving search rankings, and more.
Creating content takes time. Therefore, before starting, you need to decide whether or not it makes sense for you to invest this time and effort.
"Content Marketing Strategy" is the most searched query related to content marketing.

Content marketing ranks as the most effective inbound marketing tactic for 20% of marketers worldwide.

Persona-driven content generated by inbound increases the volume of Sales Qualified Leads (SQLs) by 45%.

Website conversion rate is nearly 6x higher for content marketing adopters than non-adopters.

Inbound marketing costs 62% less per lead than traditional outbound marketing.
Website Development
Your website is an important part of your overall digital marketing strategy. It helps you connect with your target market, build trust, and drive sales. You may have heard people talk about "content first" websites. This refers to the idea that you should start by developing great content and then use SEO techniques to rank highly on Google.
50% of consumers believe that website design is crucial to a business's overall brand.

Websites with 51 to 100 pages generate 48% more traffic than websites with 1 to 50 pages.
When asked what visual elements they value on a company website, 40% of consumers said images, 39% said color, and 21% said video.
When looking at a website for the first time, 38% of consumers look at a page's layout or navigational links.
In 2021, 53.9 percent of all retail ecommerce is expected to be generated via mobile devices.
42% of people will leave a website because of poor functionality.
84.6% of web designers believe crowded web design is the most common mistake made by small businesses.
In the first quarter of 2021, mobile devices generated 54.8% of global website traffic.
B

logging
If you want to optimize your online presence, blogging is a good place to start. Blogging allows you to share your expertise and knowledge with others. When done right, blogging can increase brand awareness, establish authority, and boost your credibility. It also helps you gain new followers and fans.
Learn more on how to start a blog for your business today!
Marketers who have prioritized blogging are 13 times more likely to enjoy positive ROI from inbound marketing.
Bloggers who write articles of 2,000+ words are far more likely to have strong results.
Articles that are >3,000 words get 3x more traffic, 4x more shares, and 3.5x more backlinks than shorter articles.
79% of companies that have a blog report a positive ROI for inbound marketing.
More than 30% of internet users regularly read blogs. Blogs with more than 2,000 words are seen to perform strongly.
51% of companies say updating old content has proven the most efficient tactic implemented.
Each month, approximately 409 million people view more than 20 billion pages.
There are about 70 million posts being published each month by WordPress users.
SEO
Search engine optimization (SEO) is a process that involves using various methods to improve your ranking in search engines like Google, Bing, Yahoo!, etc. By optimizing your site for search engines, you can attract more visitors, convert more leads into customers, and grow your bottom line.
Optimizing your site for search engines requires a combination of technical skills and content strategies.
Here are some reasons to optimize your website for search engines:
53% of US consumers say that they research products using a search engine before deciding whether or not to buy.
SEO drives 1000%+ more traffic than organic social media.
Over 50% of marketers say keyword rankings and organic traffic are the top ways they measure the success of their SEO strategies.
"Where to buy" and "near me" mobile queries have grown by over 200% in the past two years.
93% of online shopping experiences begin with an organic search.
75% of search engine users never scroll past the first page of search results.
Lead Generation
Lead generation is a critical component of any successful marketing campaign. The goal of lead generation is to capture the interest of potential buyers so they become aware of your products or services.
More than half (53%) of marketers say webinars are the top-of-the-funnel format that generates the most high-quality leads.
Companies that excel at lead nurturing generate 50% more sales-ready leads at 33% lower cost.
Nurtured leads make 47% larger purchases than non-nurtured leads.
Nurtured leads produce, on average, a 20% increase in sales opportunities versus non-nurtured leads.
Research shows that 35-50% of sales go to the vendor that responds first.
67% of B2B marketers that use lead nurturing see a 10% or greater increase in sales opportunities.
Email Marketing
Email marketing is one of the most effective ways to reach out to your audience and promote your brand. Email marketing gives you control over when and where people receive messages, allowing you to target specific audiences based on their interests and demographics.
Email marketing campaigns typically last between three and six months. If you're looking to build long-term relationships with your clients, email marketing will help you do just that.
Here are some email marketing stats you should know:
A survey in 2020, showed that almost 30% of marketers surveyed use audience segmentation tactics to improve email engagement.
79% of B2B marketers credit email as the most effective distribution channel for demand gen efforts (though GDPR may impact that in EU countries).
Relevant emails drive 18 times more revenue than broadcast emails.
Over 20% of marketers surveyed say that email design is improving their email engagement.
Nearly 25% of people who open an email on a mobile device will open it again: 70% will stick with their mobile device, and 30% will go elsewhere.
Marketers who used segmented campaigns noted as much as a 760% increase in revenue.
The number of global e-mail users is set to grow to 4.48 billion users in 2024.
Social Media
Social media has quickly become an integral part of digital marketing. Social media allows companies to connect directly with consumers by sharing relevant information about their brands, products, and services. This type of direct communication helps businesses better understand the needs of their target market and gain new followers.
The best way to leverage social media channels for business is to create high-quality content.
Snapchat offers six different advertisement formats on the platform.
As of January 2022, there are 3.96 billion total social media users across all platforms.
Almost 60% of the world's population uses social media, and the average daily usage is 2 hours and 27 minutes.
In a HubSpot Blog poll, in 2021, 79% of marketers report buying paid advertising on Facebook.
90% of brands rely on social media for brand awareness efforts.
Companies with 51-100 Twitter followers generate 106% more traffic than those with 25 or fewer.
72% of organizations use paid social media ads or promoted posts for content seeding.
LinkedIn is the second-most popular social media platform used by B2B marketers, ranking only behind Facebook.
The United States is the country with the biggest Twitter audience size in terms of users. As recorded in October 2021, there were 77.75 million users in the USA, Japan with just over 58 million users, and India with 24.45 million users.
Sources
We got our hand-picked statistics from the following sources: