In today's digital age, social media and paid media have become essential tools for businesses to reach and engage with their target audience. But how can you effectively integrate these platforms with HubSpot, a leading marketing automation software?
HubSpot is known for its powerful tools and features that help businesses attract, engage, and delight customers. However, many businesses struggle with integrating their social media and paid media efforts with HubSpot, resulting in missed opportunities and inefficient marketing campaigns.
Integrating social media and paid media with HubSpot can greatly enhance your marketing efforts and drive better results. By effectively leveraging these platforms together, you can reach a wider audience, increase brand awareness, and generate more leads.
In this article, we will explore the best practices and strategies to seamlessly integrate social media and paid media with HubSpot, helping you maximize the potential of your marketing campaigns.
Social Media Marketing
Social media marketing refers to the strategic use of social platforms to promote products, services, or brands, engage with the target audience, and achieve marketing objectives.
The Role of Social Media in Inbound Marketing
In the intricate tapestry of inbound marketing, social media is not merely a passive participant; it stands as a dynamic linchpin, weaving connections, fostering engagement, and extending the reach of brands.
Far beyond a platform for sharing updates, social media emerges as a strategic channel within the inbound methodology, providing a space for authentic interactions, audience resonance, and the amplification of brand narratives.
Within this expansive realm, HubSpot takes center stage, serving as a pivotal hub for managing, optimizing, and amplifying the impact of your social media endeavors. Let's delve into the profound significance of social media within the inbound marketing spectrum and how HubSpot elevates its role to a strategic art form.
The Importance of Social Media and Paid Media
There are 3.5 billion social media users worldwide - that's half of the world's population. In terms of demographics,90.4% of Millennials, 77.5% of Generation X, and 48.2% of Baby Boomers are active social media users. Your target audience is absolutely using social media to discover and engage with brands, and if you're not reaching out to them on this medium, your competition will fill the gap.
The most popular social media channels of the last few years are Facebook, YouTube, and Instagram, but TikTok is a rising star among younger users. Furthermore, it's not enough just to have a presence online, you have to have a strategy and pay attention to emerging trends. You already know that organic isn't the only way to go on social media. Paid ads are increasingly important to business strategy. Consider this: The Google Display Network reaches 90% of Internet users worldwide and LinkedIn is the top paid and organic channel for B2B content marketers.
It's clear that some combination of organic and paid presence on social networks is necessary in this day and age - but how exactly can this help your business? And how can you do it with HubSpot? Continue reading to find out.
The Crucial Role of Social Media and Paid Media
In today's digital landscape, where connectivity knows no bounds, the influence of social media and paid media is undeniable. With a staggering 4.76 billion social media users globally, accounting for more than half of the world's population, these platforms have become integral to our daily lives.
Understanding the Demographics
Delving into the demographics unveils a compelling narrative. A remarkable 90.4% of Millennials, 77.5% of Generation X, and 48.2% of Baby Boomers actively participate in the vibrant world of social media.
This isn't just a trend; it's a societal shift in how we discover, engage, and connect with brands. For businesses, recognizing that your target audience is actively present on social media is not just strategic; it's imperative. Ignoring this reality opens the door for competitors to step in and fill the void.
Evolution of Platforms
While stalwarts like Facebook, YouTube, and Instagram have dominated the social media landscape, the ascent of TikTok, particularly among younger users, signifies the rapid evolution of preferences. Mere existence on these platforms is no longer sufficient.
Success hinges on a strategic approach, one that is agile in response to emerging trends. The paradigm shift is clear: organic outreach is no longer the sole protagonist. Paid advertising has emerged as a pivotal player in the modern business strategy.
Media Functionalities in HubSpot
Within the realm of managing your comprehensive Inbound strategy and campaigns, HubSpot stands out as the optimal destination. However, the journey doesn't end there.
Elevate your strategy to unprecedented heights by seamlessly integrating Social and Paid channels into the HubSpot platform. The channels that seamlessly integrate with HubSpot include:
Facebook + Facebook Ads
Instagram + Instagram Ads
Twitter
LinkedIn + LinkedIn Ads
YouTube (Exclusive to the Enterprise tier)
Google Ads
HubSpot was meticulously designed as an all-encompassing platform, offering a unified space to orchestrate every facet of your marketing efforts. Let's explore the diverse media functionalities and the myriad benefits that HubSpot brings to the table.
Harnessing HubSpot for Social Media Integration
Within HubSpot's arsenal lies a suite of tools dedicated to enhancing your social media strategy. HubSpot transforms your social media endeavors from a scattered effort into a well-orchestrated symphony of brand communication.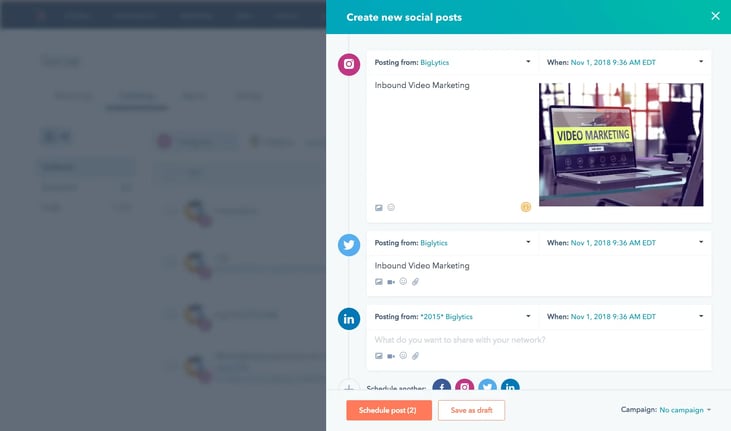 Integrating Paid Media Strategies with HubSpot
As we embrace the significance of paid media in complementing organic efforts, HubSpot steps into the spotlight as your comprehensive command center. Explore how to weave paid media channels like Google Ads and Facebook Ads into the HubSpot ecosystem, enabling you to strategize, execute, and monitor your campaigns with precision.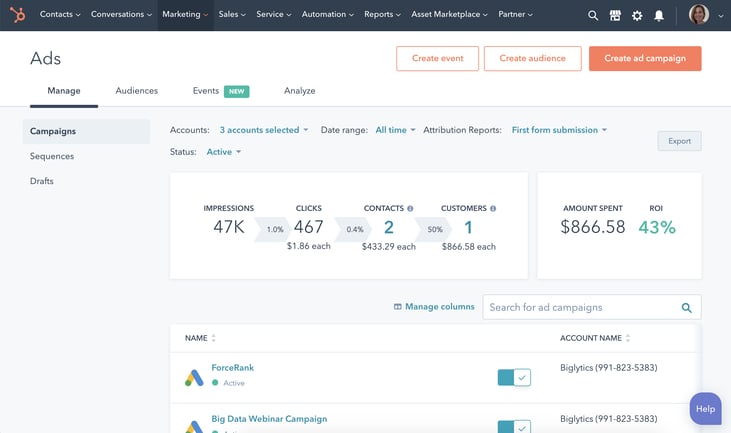 Social Media Management in HubSpot
Manage Tab

Take command of your social media landscape effortlessly within HubSpot's Manage Tab. Here's how:
Create and Schedule with Ease: Craft engaging social media posts seamlessly, embedding images, links, location tags, and languages effortlessly. Schedule posts hassle-free from a single interface, eliminating the need for platform-hopping. Moreover, schedule posts tailored to any time zone, ensuring your content reaches global audiences regardless of your current working hours.

Integrate Blog/Web Content: Seamlessly add your blog or website content to your social media posts. HubSpot enables effortless integration, allowing you to sync your social accounts with your blog and automatically share new content as soon as it's published.

Efficient Cross-Posting: Streamline your efforts by cross-posting across multiple channels in a single click. Whether it's disseminating event details or sharing website links, this feature saves you valuable time by swiftly spreading the same information across channels.

Bulk-Upload Convenience: Simplify your workflow by bulk-uploading posts through formatted CSV or Excel files. Upload up to 200 posts at a time, ensuring efficient management of a robust content calendar.

Data Export and Insights: Empower your decisions with comprehensive post-data export, including insights on performance, engagement metrics, and more. Gain a holistic view of your social media endeavors to refine your strategies for maximum impact.

Streamlined Visibility: Navigate effortlessly through published, scheduled, and draft mode posts. HubSpot's interface provides clear visibility into your social media content pipeline, ensuring organized and strategic content planning and execution.
HubSpot's Manage Tab isn't just a control center; it's your cockpit for streamlining, optimizing, and maximizing your social media efforts, ensuring your content reaches the right audience, at the right time, on the right platforms.
Monitoring Tab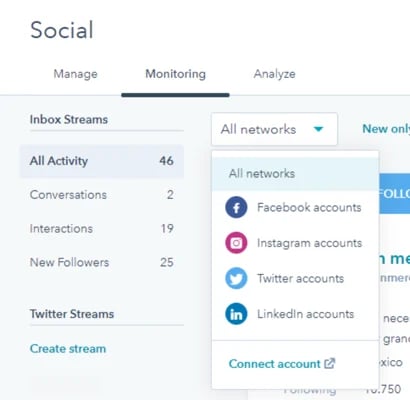 Gain invaluable insights into your post and campaign activity seamlessly with HubSpot's Monitoring Tab. Here's what it brings to the table:
Holistic Activity Tracking: Monitor your post and campaign performance effortlessly across all channels. HubSpot provides a centralized hub to keep a pulse on the effectiveness of your content, ensuring you stay informed about what resonates with your audience.

Engagement Visibility: Dive deep into user conversations on your posts. Respond directly to comments without leaving the HubSpot environment, streamlining your engagement process. HubSpot's Monitoring Tab brings your social media conversations to your fingertips, making interaction and community building more efficient.

Interactions at a Glance: Stay informed about every nuance of user interactions – from likes and clicks to shares and comments. HubSpot's comprehensive tracking ensures you have a detailed understanding of how your audience engages with your content.

Follower Growth Tracking: Keep a finger on the pulse of your social media community by tracking new followers. HubSpot's Monitoring Tab ensures you're always aware of your audience growth, a crucial metric in assessing the impact of your content and campaigns.

Customized Keyword Monitoring: Tailor your social listening with custom keyword monitoring streams. HubSpot empowers you to create personalized streams, ensuring you're attuned to specific terms relevant to your brand, industry, or campaigns.
HubSpot's Monitoring Tab isn't just an observatory; it's your dynamic control center for understanding, engaging, and growing your social media presence. Stay connected, responsive, and informed, ensuring that your social media strategies align with the evolving needs and conversations of your audience.
Analyze Tab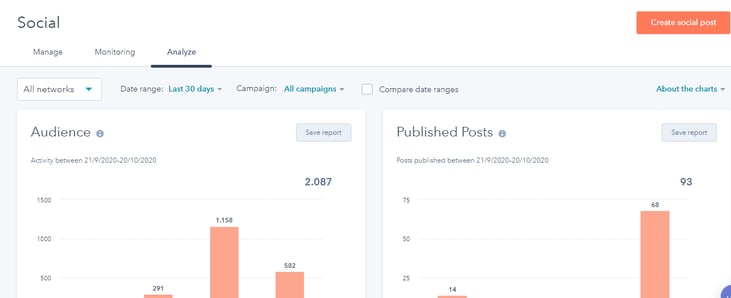 Unleash the power of data-driven decisions with HubSpot's Analyze Tab, providing a nuanced understanding of your social media endeavors. Here's the wealth of insights it offers:
Comprehensive Analytics Charts: Measure results seamlessly within HubSpot through analytics charts encompassing audience metrics, impressions, clicks, web sessions, top-performing posts, and more. Gain a comprehensive view of your social media performance without leaving the HubSpot environment.

Tailored Reporting: Customize your reports to align with your unique needs. HubSpot allows you to tailor the style, date range, account specifics, campaign details, and more, ensuring that the insights you receive are precisely attuned to your strategic objectives.

In-Depth Data Exploration: Delve into the data to uncover the optimal times to post, identify your most successful posts, discern patterns, explore locations, and understand audience interests. HubSpot's Analyze Tab empowers you to extract actionable insights, providing the groundwork for refining and optimizing your future posts.
HubSpot's Analyze Tab isn't just an analytics suite; it's your compass for strategic decision-making. With customizable reporting and in-depth data exploration, you're equipped to refine your social media strategies, ensuring they align seamlessly with the preferences and behaviors of your audience.
Paid Media Management in HubSpot
Manage Tab

Elevate your paid media management to new heights with HubSpot's centralized Manage Tab. Here's how it streamlines your efforts:
Unified Campaign Management: HubSpot's Manage Tab serves as your command center for overseeing Facebook, Instagram, LinkedIn, and Google ad campaigns. Experience the convenience of having all your campaigns housed in one location, enhancing efficiency and oversight.

Effortless Campaign Editing: Edit your campaigns effortlessly without navigating away from HubSpot. Modify campaign details such as name, budget, timelines, keywords, and automation directly within the platform. HubSpot ensures a seamless editing experience, putting campaign control at your fingertips.

Draft Creation and Storage: Foster flexibility in your campaign planning. Create drafts of your ad campaigns within HubSpot and save them for future use. The ability to draft campaigns allows for strategic planning and ensures you're ready to launch impactful campaigns when the time is right.

Real-time Notifications: Stay informed and responsive with internal notifications. Receive alerts within HubSpot when someone interacts with your ad or when contacts enter workflows. This real-time insight empowers you to act promptly and capitalize on engagement opportunities.
HubSpot's Manage Tab for Paid Media isn't just a control panel; it's your streamlined headquarters for overseeing, editing, and optimizing your paid ad campaigns. Experience the convenience of unified campaign management, seamless editing capabilities, and real-time notifications, ensuring your paid media strategies are agile, responsive, and strategically aligned.
Audiences Tab

Uncover the power of targeted engagement with HubSpot's Audiences Tab, offering a refined perspective on your ad interactions:
Interaction Insights: Gain visibility into your audience engagement effortlessly. HubSpot's Audiences Tab allows you to discern who is interacting with each ad, enabling strategic re-engagement with existing contacts.

Precision Audience Building: Elevate your targeting capabilities by building website visitor audiences. Seamlessly install ad network tracking pixels to utilize pixels for precise ad targeting. Collect valuable data to optimize ads and gauge the effectiveness of your advertising efforts.

Automatic Syncing: Experience seamless integration as audiences created in HubSpot are automatically synchronized with their respective ad networks. This ensures that your targeting strategies remain consistent and aligned across platforms.

Dynamic Audience Updates: Stay dynamically connected to your audience evolution. Audiences in HubSpot update in real-time as new visitors land on your site and as contacts are added or removed from your HubSpot contact lists. Embrace diverse audience types, including contact lists, company lists, lookalike audiences, and more.
HubSpot's Audiences Tab isn't just a spectator; it's your dynamic toolkit for understanding, engaging, and evolving your audience strategies. From interaction insights to precision targeting and automatic syncing, this tab empowers your ad campaigns to resonate with the right audience at every stage of their journey.
Events Tab

Transform your ad strategy with precision by leveraging HubSpot's Events Tab, bridging the gap between crucial contact activities and targeted ad communication:
Dynamic Event Communication: Seamlessly communicate with an ad network in response to significant events on a contact record. Whether it's a lifecycle stage change or an in-store purchase, the Events Tab ensures that your ad network is promptly informed, allowing for tailored and timely ad responses.

Strategic Ad Delivery Optimization: Elevate your ad delivery strategy by optimizing it with insights from crucial contact events. HubSpot empowers you to refine and align your ad delivery with the dynamic lifecycle and interactions of your contacts.
HubSpot's Events Tab isn't merely a notifier; it's your strategic bridge between contact activities and ad communication. With this integration, your ads become more than just static messages – they evolve in real-time, resonating with the nuances of your contacts' journey and ensuring that your advertising efforts remain agile, relevant, and precisely targeted.
Analyze Tab

Dive into a wealth of metrics, empowering you to unlock comprehensive insights with HubSpot's Analyze Tab. Here's what it offers:
Expanded Metric Spectrum: Experience an expansive array of metrics at your fingertips. HubSpot now allows you to scrutinize advertising costs per crucial lifecycle stage, including leads, Marketing Qualified Leads (MQLs), Sales Qualified Leads (SQLs), opportunities, deals, and sessions. This breadth of metrics provides a holistic view of your ad performance across various stages of the buyer's journey.

Holistic Influence Insights: Gain deep-seated insights into your ad influence throughout the buyer's journey. HubSpot's Analyze Tab ensures that you understand how your ads are shaping and influencing contacts at every pivotal stage of their purchasing expedition.

ROI-driven Attribution Reporting: Seamlessly tie your ad expenditures directly to Return on Investment (ROI) through robust attribution reporting. HubSpot's attribution reporting capabilities empower you to discern the effectiveness of your ad spending, providing invaluable insights into the impact of your advertising efforts on your bottom line.
HubSpot's Analyze Tab isn't just a dashboard; it's your gateway to an intricate tapestry of metrics and insights. From nuanced advertising costs across lifecycle stages to understanding ad influence and attributing ad spending to tangible ROI, this tab equips you to make informed decisions, optimize strategies, and elevate your advertising game in alignment with your business goals.
How To Integrate Your Channels with HubSpot
Integrating your social and paid media accounts with HubSpot is a seamless process, and your partner agency is ready to assist if needed. However, if you prefer a hands-on approach, follow these five straightforward steps:
1. Navigate to the Social tab within your account Settings and locate the "Connect Account" button.

2. Ensure you have the necessary access credentials for your accounts and are logged in. HubSpot may prompt you to authorize permissions.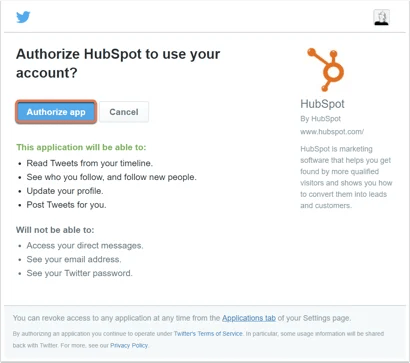 3. Select the specific channel you intend to connect. If you manage multiple accounts on the same platform, such as multiple Facebook pages or LinkedIn profiles, choose all relevant accounts and click OK.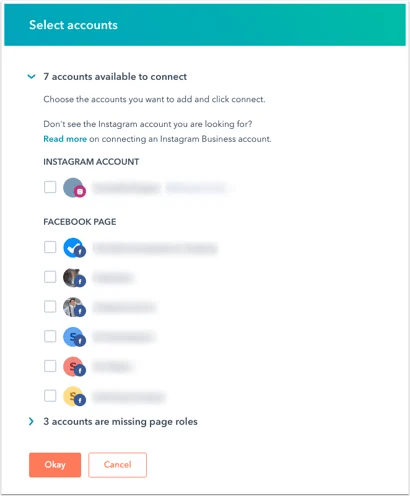 4. Periodically, your permissions may expire for privacy and security reasons, prompting a reconnection request. Address this by simply clicking the "Reconnect" button.

5. For Paid Media channels like Google Ads, Facebook Ads, and LinkedIn Ads, follow the same process, but execute it within the Ads section of your account Settings.

Whether you opt for partner agency assistance or a DIY approach, integrating your channels with HubSpot ensures a unified and efficient management system for your social and paid media endeavors.
Conclusion: Unleashing the Power of Integrated Marketing with HubSpot
In the dynamic landscape of digital marketing, the integration of social and paid media channels is not just a strategy; it's a necessity. HubSpot emerges as the catalyst, providing a centralized hub for seamless management, optimization, and analysis of your marketing efforts.
As we explored the intricacies of HubSpot's capabilities—from the Manage Tab streamlining your campaigns to the Analyze Tab offering in-depth insights—it becomes evident that this platform is more than just a tool. It's a strategic ally, empowering marketers to navigate the ever-evolving digital terrain with precision and agility.
Connecting, engaging, and analyzing within a unified platform is a game-changer. It enhances efficiency and amplifies the impact of your marketing endeavors. The holistic approach offered by HubSpot ensures that your social and paid media strategies are not isolated efforts but harmonious components of a comprehensive marketing orchestra.
Elevate Your Marketing Journey with Fine Media
Ready to supercharge your marketing efforts? Fine Media, your dedicated inbound marketing partner, is here to guide you. From strategic planning to seamless execution, we specialize in leveraging the power of HubSpot to elevate your brand's digital presence.
Take the next step towards marketing excellence. Contact Fine Media today and let's embark on a journey of integrated marketing success. Your brand deserves nothing less.