Your website is the face of your company. If it isn't optimized properly, then your customers won't trust you or even visit your site. In this article, I'm going to share some of the benefits of improving your website.
A well-optimized website is essential for any business. It helps increase traffic, boost sales, and improve conversions. When done correctly, it also improves brand awareness and increases customer loyalty.

You should not attempt to improve your website every five or ten years. You should adopt the mindset that your website will always be unfinished so you can continue to improve it by making changes to its design and functionality. Here are some of the benefits of regularly improving the quality of your website.
What is website development?
Website development is a catch-all term for the work that goes into building a website. This includes everything from markup and coding to scripting, network configuration, and CMS development.
1. Improve your brand image and authority
If your website copy describes how your products or services use cutting-edge technology but the design looks like you've been stuck in the 1990s, don't expect people to flock to your site. Rather they will gravitate to your competitors. Your website reflects who you are and what you offer. If your website looks like the image below, it probably means that you haven't invested enough time into creating an effective online presence for your business.
Ensure that your website highlights what you do best while maintaining consistency and harmony in its design by improving its appearance.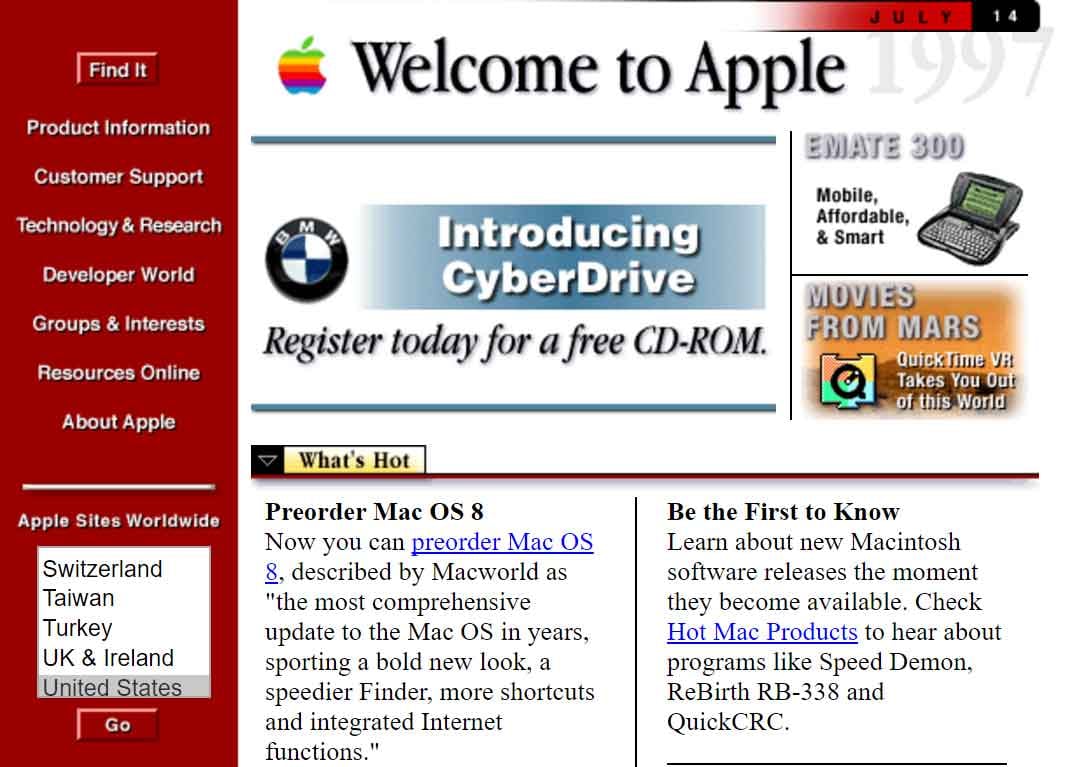 2. Stand out from your Competitors
Every business needs a unique selling proposition (USP). There are so many options available today, that it's easy for people to load several websites at once and compare them side by side. Your website should be improved so it highlights your value proposition better than your competitors. This makes it easier for people to remember you when they need your product or service.
3. Increase Conversion Rates
It's important that consumers find your website easily and that you have clear navigation. A poorly designed website may be frustrating for visitors because they get lost and waste their time looking for information. If your website does not provide customers with a convenient way to contact you, or if there are too many links on your website, they might click away without leaving a message. Your website should include relevant content that provides as much value as possible for potential customers. This ensures that your website converts more visitors into paying customers.
4. Reduce bounce rate
Make sure your website's navigation design improves the user experience. For example, review your website again and see whether its navigation disrupts or irritates the customer's journey. If reaching checkout is a real hassle for them, then consider changing it.
If your website doesn't provide a good user experience (UX), then there is a greater chance visitors will click away – something Google considers a "bounce". A high bounce rate can negatively affect your rankings and future traffic. For example, if your site isn't optimized for mobile devices.
5. Avoid falling in the search rankings
Don't forget to keep up with SEO when it comes to updating your website. Designing a better site is important, but updating your website's content is even more so. Websites with the latest content receive greater exposure from search engines like Google than websites with older content.
So, yes, your copy might be perfectly written, but if we want to get noticed by search engine spiders, we need to write something different. Content improvement ensures relevance and gives you a chance for rethinking your keyword strategy.
The higher the ranking of your website, the greater exposure it gets. Google has made significant efforts to improve its algorithms, which means it's easier for businesses to achieve top spots in searches.
6. Website ranking and Mobile-friendliness
In the second quarter of 2022, mobile devices (excluding tablets) generated 58.99% of global website traffic. A lot goes into the Google algorithm and it plays a big role in how your website gets ranked. It considers the speed of your website and if its mobile version has a good mobile page speed score.
Websites that are mobile-friendly and responsive are becoming increasingly popular. Sometimes, designing your website for mobile first makes more sense than designing it for desktop first. If you haven't done an update for a while, it's likely that you're driving mobile visitors and potential customers away.
7. Improve website traffic
Optimizing your website for conversions will help increase the number of visits to your site. If they love your site, which is easy to navigate and use, then they're more likely to share it with others who are looking to hire your service.
Another way to increase traffic is through social media marketing. There are several ways to do this such as sharing your posts on Facebook and other platforms. You can also use paid advertisements on sites such as Twitter and Instagram, among others.
8. Increase visitor engagement
You can encourage visitors to engage with your brand by offering incentives and promotions. Visitors who share your business on social media networks can help boost your visibility. They'll also become part of your community and interact with your brand. Your fans may even spread the word about your product or service.
If visitors have a good experience on your website, but they're not ready to purchase just yet, chances are that they will return to your site later. When they've made their decision to buy from you, they will remember how much they enjoyed browsing through your site and won't go anywhere else to make their purchases.
9. Spot what's slowing your website down
People don't want to wait for websites to load. Envisage Digital reports that if a mobile site's loading time is more than three seconds, it is likely to lose 53% of its users. Up to 64% of smartphone users expect a web page to load in four seconds or less. The average mobile web page takes 22 seconds to load.
Loading time is one of the most important factors. Re­think your heavy elements, such as unoptimized images, JavaScript issues, messy code, and too many ads.
10. Improve the user experience
It doesn't really matter if your site looks good or not; what matters most is how visitors feel when they're on your site. How user-friendly is your website? How quickly does it load? How easily can you find information? How little friction is there whenever someone tries to complete the desired action? If you're not scoring high on any of these factors, then it would be best to focus on improving your site's user experience (UX) so that visitors will leave happy.
11. Address how you communicate with visitors
Yes, website design (layout), user experience (UX) and content are all important factors but so too is the quality of the content. People aren't visiting your website just to see how well-designed it is; they want useful information. You can improve your website by focusing on how you communicate with your visitors. Did your content become too wordy five years ago? Make it simpler and more effective.
When writing for the web, it's important to go in with a content-first mindset, rather than forcing a specific number of words onto a page. You need to make sure that your website's content leaves an immediate impression on visitors. Make sure that your content is fresh and relevant as you will only have three seconds to make an impact.
12. Measuring and improving
Do you know how well your website works for you? If your website isn't up to date, it may not be able to track or measure how well it performs among visitors. So, the first thing to look at would be adding user research and testing tools such as Hotjar, Google Analytics, and Lucky Orange.
With these tools, you can keep making improvements to your website. With heat mapping, user recording, and conversion tracking, you can track where they're clicking, what they're looking at, how long they stay on each page, etc., which will allow you to make better decisions about your site's content. From there, you can use these insights and opportunities for your own benefit by adapting your website accordingly.
13. Make your website more persuasive
If it's been some time since you've updated your website, it may be that your calls-to-actions are out of date too. They can be simple buttons and hyperlinks, but they're the most important part of your website. They're what you need people to click on so they end up contacting you or buying something from you.
If you want to improve your website, go through each page to check for persuasive and engaging copy, on-brand content that highlights the unique selling propositions (USP), is easy to find and follow, and would encourage you to click. Make sure they're interesting, actionable, and not easy to miss so people click through to take action.
14. Meet basic web standards
Techniques for building websites evolve constantly, so they need to be updated regularly to keep up with new web standards. If your website has been built many years ago, there's a high probability that it contains lots of unnecessary HTML code. What effect will it have? Slow loading speeds and poor performance in search results.
If you need to change the way you code, using CSS means your pages will be responsive to smartphones — another important ranking factor.
These improvements will help you get better results, which means you'll be able to convert more visitors into customers. On the other hand, if you use traditional web design methods, making improvements to your site is just a short-term solution that will eventually cause headaches down the road. Why? Because if your eggs are in one place and you rely on getting your website perfect once, then you're putting yourself at risk for failure.
It's a big risk. After months or years, it's time for another revamp. And then the headaches come back. Upfront costs, exceeding your budget, tight deadlines, and the bottom line - these things can be affected by your most important marketing asset. But there's an alternative, and it is Growth-Driven Design (GDD).
Continuously improve your website with Growth-Driven Design
GDD is a more methodical and structured approach. Traditional web design can be faster on paper but it takes longer to develop than GDD. That's because, with GDD, you need fewer, highly-impact pages to be live so your website can be launched faster. You then continually improve your website by using real-world data. It is therefore always fresh and never finished!
That's just a basic overview of how GDD works. Find out more about Growth Driven Design