Video marketing is a powerful tool for any business to market its products and services. It's the most cost-effective way of advertising it allows businesses to create unique content that is more personal than traditional ads, yet can be incredibly effective at reaching potential customers.

Video is one of the most powerful forms of digital communication today. But many companies still don't realize how much growth potential exists. According to HubSpot research, 79% of B2C brands that aren't using video say they plan to start building out a video marketing strategy in the next three years.

However, while we've seen explosive growth in video usage across platforms such as social media, email, web browsers, and messaging apps, many brands still struggle to figure out how to leverage video within their marketing strategies effectively.
Video Marketing
Video marketing is a type of online marketing where you use video content to promote your products and services.
What is Video Marketing?
Video marketing has become an integral part of digital marketing strategies because it allows you to connect with customers in a personal way. Video leverages the power of visual storytelling and the ability to quickly communicate complex ideas to consumers.
Video marketing is a type of online marketing where you use video content to promote your products and services. The best thing about this type of marketing is that people are exposed to your brand message when they watch your videos. This means that if done correctly, you will have a greater chance of converting them into buyers.
Video has a tremendous impact on sales, with 84% of people saying that they've been convinced to buy a product or service by watching a brand's video, according to Hubspot research.
The goal of video marketing is to engage customers via visual content because it helps people understand your brand better. There are three main types of video marketing:
1. Product Videos
2. How-To Videos
3. Case Studies
Why is Video Marketing Important
Video marketing started in earnest in the early 2000s with the launch of YouTube, where anyone could upload a video. In 2006, Google purchased YouTube for $1.65 billion. By 2009, there were seven different ad units on the platform, including text ads, rich media ads, and mobile ads.
As the technology to create high-quality videos got easier, it became more popular with marketers. However, that's not the only factor driving the popularity of video marketing. There are several reasons why people are consuming more digital video content than ever before.
First, there was a rise in smartphone usage. Smartphones allowed consumers to watch videos anywhere, anytime. This also helped make watching videos more convenient.
Then came the COVID-19 pandemic. People turned to social media to stay entertained during self-quarantine. According to Nielsen, online viewing spiked by 215%.
Wyzowl reports in their State of Video Marketing in 2021, that people watch an average of 18 hours of online video per week. Ignoring video marketing isn't an acceptable strategy anymore.
1. Video content encourages social sharing.
Videos are the second most popular content type on social media for increasing user engagement.
Video has always been at the heart of platforms like YouTube and TikTok. Social media platforms like Instagram and Facebook are increasingly focused on video content.
Platform providers that don't offer native videos often emphasize the importance of using videos for marketing purposes. For example:
Pinterest also encourages video with a new launch video platform Pinterest Premiere:
2. Videos marketing helps improve SEO, boost conversions and sales.
About one-third (31%) of marketing professionals say they use videos to improve their websites' search engine rankings. Adding videos to websites improves their overall performance by increasing the number of pages viewed and the length of time spent on each one.
According to a recent survey by HubSpot, more than 60% of marketers say their customer acquisition cost has increased. At the same time that 83% of video marketers claim that videos help them get new leads.
Video has not only transformed how businesses market, sell, and purchase but has also completely changed how sales professionals interact with their customers and how customer support teams provide an amazing experience for their clients.
Videos can be used by salespeople at any point during the customer buying cycle, and they can do much more than just increase user interaction. Salespeople use backend analytics to identify which leads are most likely to convert into sales opportunities.
3. Video content is preferred by mobile users.
Video consumption has been driven by mobile devices. A Statista report found that most people (77%) watch online videos using their smartphones or tablets.
Mobile apps have become a key part of many companies marketing strategies because they allow brands to connect with customers wherever they are.
4. Video marketing is useful for education and trust building.
Education videos are becoming an important tool for sharing knowledge and information. They're especially helpful for providing training and educational materials to employees who need to learn something new.
Educational videos can also be a great way to build relationships between your company and its customers. This helps you earn their loyalty and trust.
Consumers and customers prefer low-quality videos over high-quality videos that seem fake and inauthentic. According to HubSpot research, Millennials and Gen Zers prefer authentic content over high-quality content that appears artificial and inauthentic.
Influencers are one of the reasons why influencer marketing grew from $9.7 billion in 2020 to an estimated 16.4 billion dollars by 2022.
Video is within reach of almost every type of small and large company. The evidence is clear if you want to be successful, you need a good video marketing strategy.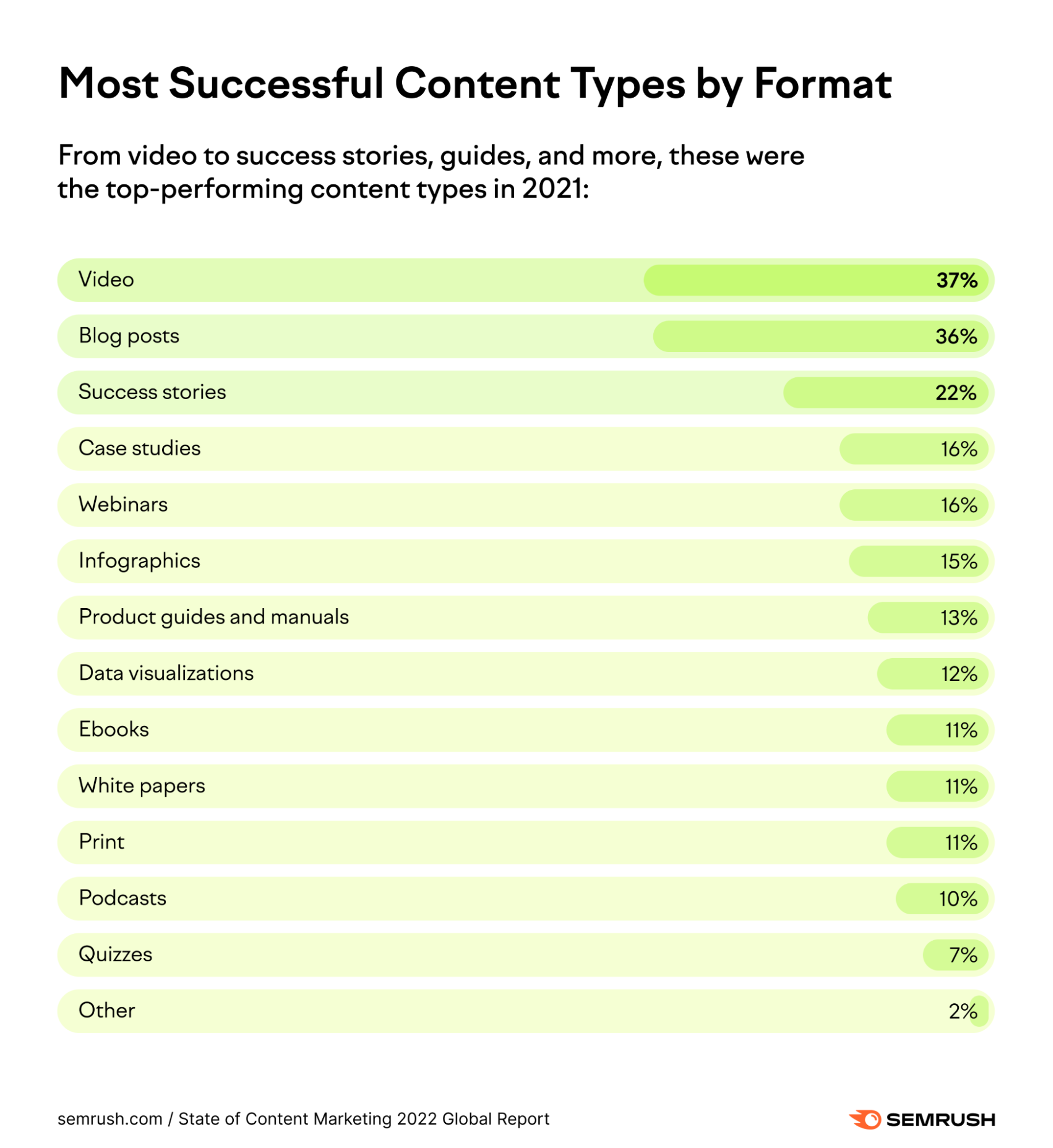 The 12 Types of Marketing Videos
The most important thing about creating videos is knowing exactly what kind of video you are making. There are 12 types of marketing videos to choose from. Here is a brief description of each one:
1. Product Video - This is a short video that introduces your product.
2. How To Video - This is a step-by-step tutorial showing how to perform a certain task.
3. Case Study - A case study uses real-life examples to show how something works.
4. Promo Video - A promo video is used to promote a specific event or holiday.
5. Whiteboard Animation - A whiteboard animation is a combination of text, images, sketches, and diagrams.
6. Infographic - An infographic contains information visually.
7. Animated Explainer Video - An animated explainer video is similar to a promotional video except it includes animations instead of live-action footage.
8. Interview - An interview is when someone asks questions and the other person answers. It's often done through social media sites like YouTube.
9. Webinar - A webinar is a presentation that happens on the internet.
10. Social Media Advertisement - Social media advertisements include posts made on Facebook, Instagram, LinkedIn, Twitter, etc.
11. Email Campaign - An email campaign is a series of emails sent out to a list of subscribers.
12. Live Stream - A live stream is a video broadcast that occurs on platforms such as Twitch, Youtube, Periscope, Facebook Live, etc.
Video Marketing is the future
In conclusion, video marketing is a powerful tool that has become increasingly useful over the years. With the right strategy, videos can help you reach millions of potential customers who wouldn't otherwise pay attention to your brand.
The key to success lies in finding the right balance between creativity and efficiency. This means creating engaging content that resonates with your audience, while also ensuring that you use the tools available to you to maximize your efforts.
As you can see, video marketing is a very broad topic, which means that there are plenty of growth opportunities. So whether you want to create a series of educational videos to teach your viewers about your products or you'd like to produce entertaining clips to promote your latest campaign, there's bound to be a niche that fits your style perfectly.
And if you're interested in growth for your business then leveraging video marketing into your inbound marketing strategy will give you an advantage over your competitors.
So go ahead and start creating videos today!